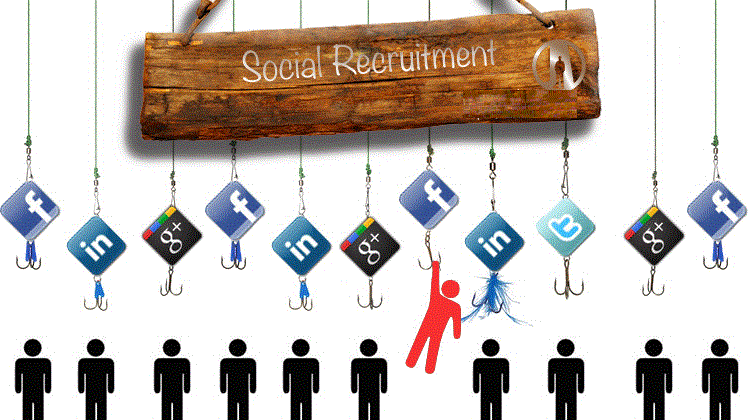 Recruitment is the process of stimulating people to apply for jobs. Over the years companies have realized the importance of recruitment and how a properly planned recruitment programme can provide sustainable competitive advantage to the company. The methods of recruitment have also changed and recently social media has gained popularity as a means for recruitment.
Social Recruitment definition
Social recruitment is concerned with sourcing candidates for jobs via social media channels and social media networks. Social recruitment takes two different paths. The first is increasing reach by spreading jobs and relying on the power of peoples' social networks –social currency – to spread the jobs far and wide. The second is actively searching for potential candidates via publicly-available information on social networks.
Social Recruiting is one of the best ways to reach out to a larger audience and chose the best amongst them. It does not mean just posting job links but the essence lies in continuous and meaningful interactions with the applicant. The applicants must be asked various questions and must be provided with relevant information about the company and the job. Social Media helps in attracting audience by use of pictures and videos and thus also creating a personality of the company. It is not a clearly defined approach or set of tactics, it is a concept and a set of ideas based on using the social parts of the web for talent attraction and recruitment.
Since 2009 there has been some discussion in the recruitment and social media communities about whether simply using social media as a communication and marketing channel can be called "social recruiting". The argument is that for recruiting to be truly social, it needs to build a community, facilitate communication within that community, and rely on social connections between community members to recruit.
Advantages of Social Media
The advantage of using social media is that the message can be short, keyword focused and can be shared quickly. As the society is being more digital and technology savvy, social recruitment is gaining popularity. It is different from the traditional method of recruitment such that unlike the traditional method this involves a two way interaction wherein the goal is to create a conversation and not just push content to the target audience. It is more personal and engaging in nature, and reduces geographical diversity as it invites applicant across the globe. The applicant can also raise concerns, issues and may provide valuable feedback on the recruitment process thus enhancing the process as a whole. Another advantage is that tracking and monitoring your progress is easy. Thus it is a popular method employer branding and internal marketing.
It is important to have someone who understands how candidates interact with companies and must respond to customers so as to portray a professional but approachable image of the company. The rules regarding the person interacting with the customers, the content, the topics to be covered and the tools used i.e the different media must be clearly laid out. Social media is a two way process. The companies are looking for professionals who are apt for the job whiles the applicants are looking to join their desired company that they feel is the best fit for them culturally. The company on its part must provide the seekers the core values and working culture of the company so as to ensure the candidate is not just job fit but also organization fit while the applicants on their part must be careful while posting anything on social media as they are constantly being monitored.
Mediums of Social Recruitment
Social recruiting uses social media profiles, blogs, and online communities as a talent database to find and search for passive candidate data and information. It also uses social media to advertise jobs either through HR vendors or through crowd sourcing where job seekers and others share job openings within their online social networks.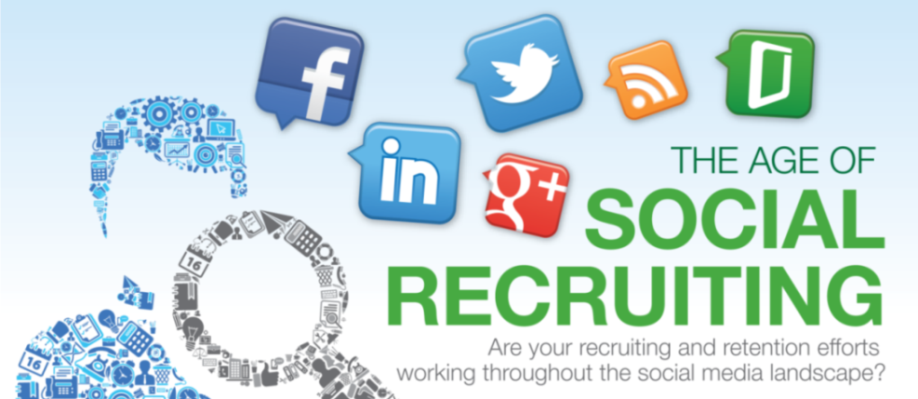 Topping the social recruitment leader board is LinkedIn followed by Facebook and Twitter. These mediums provide easy access to the profiles of the potential candidates and well as some of their personal information. Close tracking of the candidates also helps to know the attitude, personality of the candidate thus enabling the company to hire the ideal person for the job and optimizing recruitment costs. In order to be successful companies should know how to start, which medium to use, making sure that the company pages are updated and establish the company as a relevant source and not just a company posting about job openings.
Social Recruiting is:
Making new connections through Facebook, Linkedin etc.
Engaging which is very important
Actively network and engage in target groups
Proactive search for right talent
Referencing
Networking
People driven
Listening
Strategic
Collaboration
Continuous efforts and building approach
Social recruiting falls broadly into two categories- Push and Pull.
Push strategy is used for passive job seekers who are highly talented and are currently working for another organization but are of high value according to the company. Since they are passive in nature the company has to make efforts in order to stimulate them to apply for jobs. Techniques like phone sourcing and internet sourcing are used where cold calls or individual means are sent to the prospective recruiting targets so as to create a positive image of the company in their minds.
Pull strategy on the other hand is an old fashion method used when candidates are actively seeking job opportunities. Techniques like job posting and using social media pages are applied where the candidates view a company's profile and the job opening and then based on their perception about the company and job decide whether they want to apply or not.
Thus, it is important for the company recruiting through social media to ensure to have large network and employers who are technology savvy and have the ability to understand the personality and attitude of the people after close monitoring and interactions. Social recruitment offers a new dimension for hiring and is the way forward for companies to attract talented personnel and if planned and implemented properly provides it a competitive edge to the company also called the "Blue Ocean Strategy".
---
Contributed by Suchin Kulshrestha, (Class of 2008, IBS Hyderabad)