Name : Sunny Ralli (Batch 2008- 2010) IBS Gurgaon
Startup : Praedico Global Research Pvt. Ltd
About the Startup:-
Praedico Global Research Pvt Ltd is India's first finance neuron developer which uses their specially designed neural networks to accurately predict performances of stock markets around the world. It is a modern generation Fintech company which believes in discovering new research products in the field of finance with the effective use of the Artificial Intelligence. It believes in providing free world class research to people across India with highest accuracy. Their products boast of an accurate prediction of Indian Stock Market and financial products with an accuracy of more than 80%. Average Indian investors spend an average of 40k-50k in form of advisory & research fees which Praedico aspires to bring down to Nil in coming years.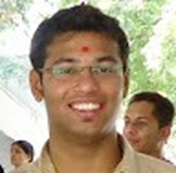 Name : Sanket(MBA BATCH 2013-2015) IBS Dehradun
Startup : MANAGING DIRECTOR @ M D CHOKSHI & SONS
About the Startup:-
Sanket is an alumnus of the MBA class of 2015 from IBS Dehradun. Belonging to a business family, his interest towards starting his own business was always in his mind hence to sharpen his skills and discover more about the appropriate business tactics and techniques he decided to pursue his MBA.
As on date, Sanket's startup is business unit of high market knowledge is winning every competition. Reason of his win lies in concentration, which every worker carries to design with perfection, quality-approved Antique Silver Dinner Set, God Chattar, Pure Silver Jug and much more. Not a single time his company has lost their path of doing business rightly. No matter how tough market condition has been, it always has come across as a winner by sticking to their right business values and principles. Sanket's Vadodara (Gujarat, India), based company has never taken support of cheap business tactics to reach a high position in the industry. They believe that the quality is the result of high intention, sincere effort, intelligent direction and skillful execution; it represents the wise choice of many alternatives. In a small period, Sanket has gained success because of quality production.