Here is the text of the welcome address delivered by Prof S C Sharma, Director, IBS-Gurgaon during the IBS GURGAON CONVOCATION – 2015.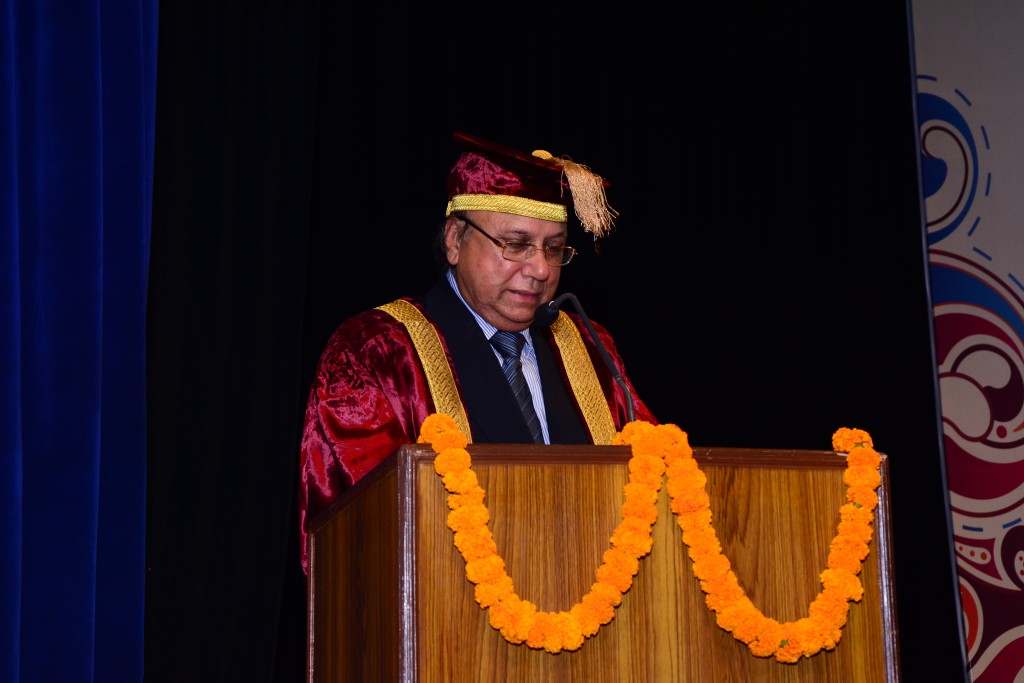 Honorable Chief Guest Dr Mangu Singh, Managing Director, Delhi Metro Rail Corporation, Guests  of Honour Mr Vaibhav  Srivastava, Chief Executive officer, Zerone Technologies and Mr Mridual Srivastva, Vice President, Human Resources, Hero financial corporation, our highly respected guest Wing Commander Mr R R Reddy, distinguished guests, learned members of faculty, dear graduating students and their accompanying parents and guardians, ladies and gentlemen,
It is indeed a matter of distinct privilege for me to extend a very warm welcome to our Chief Guest Dr Mangu Singh Managing Director, Delhi Metro to this convocation ceremony. Dr Mangu Singh is a well known personality and is a symbol of excellence and outstanding accomplishment in the field of urban infrastructure, particularly Rail Transport planning, developing innovative monitoring systems leading to setting up of new standards for program execution and management.
Dr Mangu Singh graduated in civil engineering from University of Roorkee (now IIT Roorkee) in 1979 . Thereafter, he got into the Indian Railways Services of Engineers (IRSE) in  1981 .
Dr Singh joined Delhi Metro Rail Corporation (DMRC) in 1997 in the capacity of Chief Engineer/Chief Project Manager and moved upwards to the positions of Executive Director, Director (Works) and has been Managing Director since December, 2012.
Dr Singh is also a recipient of various prestigious awards and honours like the National Award (Railway Week Award 1996) for his contribution in completing the Kolkata Metro Rail Project, distinguished Alumni Award – Global Meet IIT (Roorkee) 2007 etc.  and Engineer of the year award 2012 by IEI. Dr Singh has published/presented many technical papers in National and International Journals/Conferences etc.
We are deeply grateful to you, Sir, for finding time to be with us as Chief Guest for this august ceremony.
Our young graduating students have been keenly waiting to hear your journey in one of the most prestigious institutions in the country and how you have made a difference through the sheer grit of your personality and persuasive ways in getting the best out of people and material resources around you.
It is my pleasure to  extend a very special welcome to Wing Commander Mr Raghunath Reddy, Registrar IBS who has flown from Hyderabad to be a part of this celebration. Mr. Reddy has been rendering a very valuable and priceless service to IBS. The range and depth of his contribution to IBS during last fifteen years is beyond description. His invigorating leadership echoes in every sphere of this great institution and helps it in soaring higher and higher levels of all round success.
I extend a very welcome to our two distinguished guests of honor from industry Mr Vaibhav Srivastva and Mr Mridul Srivastva .
Mr Vaibhav Srivastva is an engineer and Masters in Business administration  and has around 15 years of standing in corporate world. He has been CEO of 5 companies in Qatar and Dubai under AL Sulaiman Holdings. He brings with him sound experience of sales, business development, product management and business planning.
Mr Mridul Srivastva , is currently heading  HR Department of Hero Financial Corporations He has 11 years of experience in several sectors  including hospitality , real e state  and NBFC. He has been extensively promoting the use of E-Learning and blended learning throughout the organization.
We extend a very warm welcome to our distinguished guests Dr S K Kaakran and Dr O P Gupta, former Director IBS Gurgaon .
We are also deeply appreciative of the presence of parents, guardians and friends of our graduating students. Many of you have made great efforts to join us today. Our most grateful welcome to everyday.
It is a matter of great honor for me to be a part of ICFAI Group and IBS family.
It would be contextually relevant to share briefly the journey and accomplishments of this great institution which has redefined the concept of management education in India and made perceptible impact on the life and career of thousands of students in the country through a vast pan- India network of 11 universities and 9 IBS Campuses located at Ahmadabad, Bangalore, Dehradun, Gurgaon,Hyderabad, Jaipur,  Kolkata, Mumbai and Pune.
The IBS campuses offer two year, full-time Postgraduate Program in Management and continuously endeavor to meet the changing needs of corporate and businesses.
Since its inception, IBS has been consistently ranked among the top Business Schools of India providing excellent academic delivery and transforming the students into leaders for the future.
IBS Gurgaon pass-outs have been in ever increasing demand and very many of them  are holding senior positions in large number of companies and business organizations covering almost all major sectors of economy including IT, Banking and insurance, Analytics and consultancy, credit rating, digital marketing and marketing research, micro finance, etc.
I congratulate the dear graduating students and their proud parents. It is a great day, one we have been planning and waiting for. It is gratifying to look at all the familiar faces of class of 2015.
My dear students, in many parts of the globe convocation ceremony is called commencement. It is a unique moment to look through the memory lane of the years gone by and also to look ahead at your dreams.
The great Chinese philosopher Confucius once said," By three methods we learn wisdom: first by reflection, which is noblest; second by imitation, which is easiest; and third by experience, which is bitterest.
I have also contemplated on my life and career and felt that a few thoughts might be of some relevance.
Firstly, Graduation is not the end of learning. In fact, your onward journey is bound to provide ample situations necessitating validation of the utility of past learning in grappling with the problems encountered in daily life, both at work and beyond. In the light of your experience you have to initiate the process of unlearning and relearning.
It must be appreciated that all forms of education and knowledge is aimed at making life more meaningful and productive. We have made all possible efforts to share with you knowledge and skills and trained you in the art of knowing the unknown and dealing with it deftly.
Secondly, in the coming years and decades many things will change. You may switch over to a new company with a different profile. Your superiors may be professionals with markedly different skill set with wide variety expectations from you.
The nature of challenges in the market place may undergo huge transformation swinging from buyers' market to sellers' market, from domestic market to global market, from boom to burst and so on.. In this ever changing scenario characterized by hope and despair, a few things will always be helpful.
The keen desire to add value by being an effective team player, a leader, a researcher ,an analyst- all rolled in to one with an infinite capacity to adjust, negotiate, reconcile and innovate  are some of the attributes of successful professionals .  You must strive to remain relevant in all situations.
These qualities will endear you to all people you would come across in your long and versatile career.  My dear students please appreciate that every change presents opportunities. Develop the third eye of wisdom which would enable you to discern opportunities in every challenge.
I am sure our Chief Guest would touch upon this subject during his Convocation Address.
I wish the graduating students all the very best in all their endeavors. You would be our ambassadors for all times to come.
Today you also graduate from being a student to becoming alumni. We value our alumni as much as our students. We would be very happy if you continue to be in touch with us. Many of our alumni visit their Alma meter as guest speakers; share their experience and success stories. They become a highly credible and perennial source of inspiration for the students.
I once again extend a very warm welcome to our Chief Guest, Guests of honor and all those who are a part of this great ceremony.