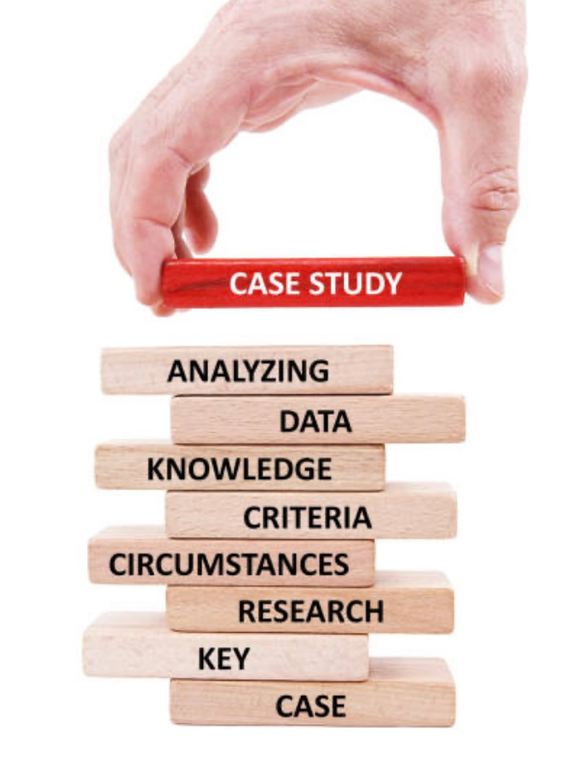 In the contemporary world, teaching methodology has evolved from old-school teaching methods to digital teaching. The traditional method of teaching is more inclined towards the conventional way by merely using textbooks, further it evolved to a more modern way of teaching by focusing on practical learning. Management is a field that requires active application of theoretical concepts in real-life situations, so the finest business schools place great emphasis on practical learning, by using case studies. The case study teaching approach stimulates an in-depth and all-round understanding of a complex issue in its pragmatic form. The said case studies used in the business schools are a main course of action to develop analytical skills in addition to emphasizing observation and problem-solving skills. They guide the implementation of various management principles. The most noticeable results are achievable when concepts are blended with case study applications. While choosing ICFAI Business School for my post-graduation program, the case-study teaching methodology adopted by them was the dominating factor in my choice. In our prior academic qualifications, we as students have grasped theoretical knowledge through and through, it was time to finally apply that knowledge in real-life scenarios, hence I made that choice. IBS has a dedicated team of faculty members with vast industry experience who research and prepare industry-based case studies. These case studies strengthen the quality of their management education. Let us look at the reasons why case studies help in grasping concepts and contribute to the development of the students of ICFAI Business School.
1.   CONCEPT CLARITY: The case studies designed at IBS allow the students to validate things in the real world that have been taught in the classrooms. IBS is one of the top business schools in India with its case development centre named IBS Case Development Centre or IBSCDC. It has been accredited with compiling more than 5500 cases that are substantially used in the IBS curriculum.
2.   KNOW-HOW OF THE INDUSTRY: Furthermore, case studies help in familiarisation with how the industry actually works. The concepts covered in the case studies give a practical scenario where the theories, principles, and techniques can be applied. Unlike theoretical concepts, case studies are not hypothetical or imaginary.
3.   ANALYTICAL SKILLS: When MBA students are given a case study, they are expected to analyze it, and arrive at a conclusion. Persistent use of case studies in the curriculum helps the students in improving and even developing their analytical skills.
4.   DECISION MAKING: As a result of better analytical skills, making sound decisions is made quite easy with the use of case studies. One of the most prominent benefits of the case study teaching method is decision-making in our work lives, we will be able to relate to situations and make sound decisions when we enter the corporate world.
5.   PROBLEM-SOLVING SKILLS: In addition to analytical skills, problem-solving is another skill that B-school students can tick off of their checklist. The research findings show that case studies stimulate critical analysis resulting in an evaluation of the situations.
6.   FAIR EVALUATION: Case study analysis also provides the faculty members fair evaluation of the academic performance, as they can compare the understanding level of the students' pre and post-application of case studies.
Hence, these case studies curated by the ICFAI Business School are used by elite business schools and prestigious consulting firms around the world. IBSCDC has been awarded in some of the most prestigious global case writing competitions such as the EFMD Case Writing Competition, Oikos Global Case Writing Competition, John Molson Case Writing Competition, Dark Side Case Writing Competition, Baylor-USASBE Student Case Research Competition, and EPARCC competition. Some of the cases have also regularly been figured in the list of The Case Centre's bestsellers, while more than 100 case studies have been published in leading international textbooks and journals. Thus, joining IBS provides explicit growth opportunities for MBA students by experiencing a world-class curriculum full of exceptional case studies.
Shreya Sahni
Batch 2022-2024