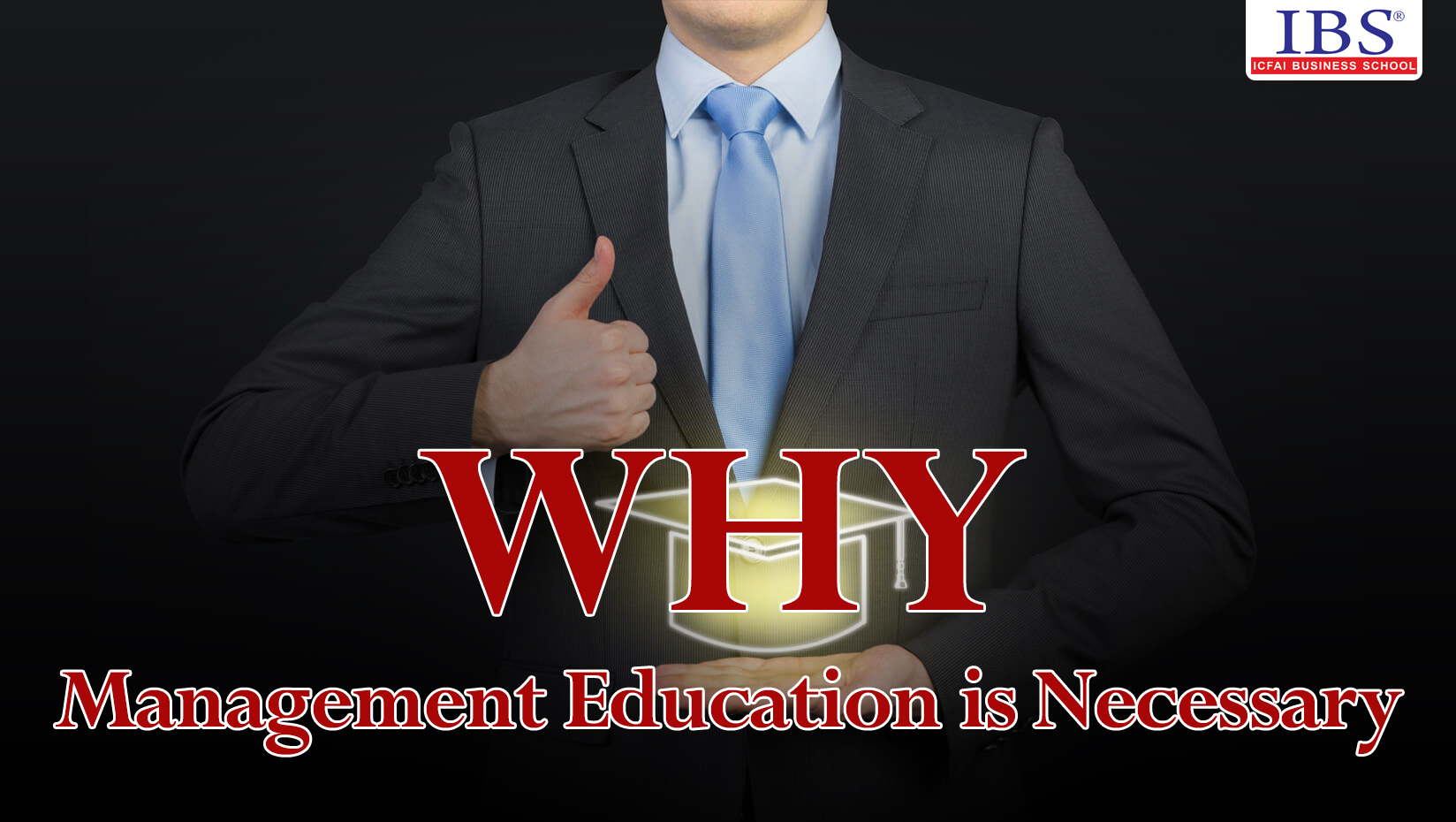 Over the years, management institutions have burgeoned in the country rapidly. The Multi-National Companies actively seek out management graduates to fill its rank and file and groom them to become future leaders. This has led a vast majority of Indian student aiming to get MBA or PGDM degree to make their career in this field.  However, no matter how many MBA colleges in India are mushrooming and students queuing up to attain a management degree, the question still persists; why management education is necessary? Let us consider the points that justify the value that a management education can add.
Getting to Know How the Business Works
In the two years of your MBA course, you learn a great deal about the pillars of business. When you get into management course, you get the exposure to develop and improve your business knowledge and learn various tools and techniques. This becomes valuable in the later career which requires more analytical thinking to identify and tackle business challenges. Even for the entrance examination, many of these management institutions require them to develop real life skills such as numeric ability, data interpretation, language skills, logical reasoning and current affairs. The graduates from the management institutes are prepared for life and have a higher success rate dealing with upcoming life challenges.
Leadership Skills get Improved
In a management college, you get the opportunity to come out of your cocoon and face the crowd, even if it is a challenge for you.  Various seminars, workshops, projects and case-studies; enable an individual to improve their people management skills. As you progress in your career, you would need to manage people where the interpersonal skills become indispensable to grow into an effective leader. It also provides the students a valuable opportunity to explore their likes and dislikes, as well as their many talents to make the most of upcoming opportunities.
Getting Acquainted with Corporate Etiquette
The management students are required to undergo a few Internship Programs as a part of their curriculum, in which they get the chance to interact with the corporate world. In the course of their internship, they get a taste of the business world where they learn the nuances of running a business and becoming a professional. This prepares them for the real life work conditions which sometimes may make demands such as meeting targets, negotiating, insane working hours, people and their temperaments, pressure, and work-life balance. This ensures that the students graduating from these courses do not live in their fairy world and do not have any illusions about the harsh world out there.
Learning the Management Jargon
When you are doing your MBA or PGDM, you come across management jargon, which are usually a vital part of the business world. This aids in helping a student settle sooner when they join a workforce into an organization. In fact, knowing the management jargon help the students to easily be on the same page with their colleagues and bosses when they have a real job. They won't feel like an alien in the corporate world. They also develop awareness about the world of commerce and it helps them out when they are looking out for opportunities. Most of the companies are looking for employees who can see the bigger picture and can come up with the ideas that can take the organization forward. The management graduates may have an edge in this regard.
 Better Opportunities in the Job Market
Almost all MBA colleges in India have a placement cell which is dedicated to screening companies to come for campus interviews. This saves the students from visiting different organization in search of a job. Getting a job in today's economy can prove to be a difficult endeavor and any help one gets in this regard is a blessing. The placement cells also take the students through various employ ability skills training sessions which improves their chances of getting selected in the companies. It is also observed that due to the business acumen these students develop, companies are comfortable taking them at a higher salary and hierarchy than non-management graduates.
Better Career Progression
With an MBA degree, getting a better designation becomes easier. The easier progression of their career can be attributed to the skills developed during their management study. Many companies find it much easier to hire the management graduates who are seen as already possessing the effective management skills and not having to be taught everything from the scratch. The companies may also have policies requiring a person to be already educated in a management course before promoting them as a manager. This is done to ensure that the promoted person has got the right skills in place to perform well in the job. Some people who are eyeing management titles may also consider taking a sabbatical and pursuing a management degree or going for a distant learning management course.
Starting their own Business
The management education also prepares you to become a successful entrepreneur. As the students become more reliant on their skills to manage the business, they may also choose the entrepreneurial path. This is especially useful for millions of students who do not want to make their career doing a regular job and would like some more freedom in their work. Students learn the real life skills of sales and finance as well as aspects of human resource management which are all highly relevant to any budding business owner. The management education also aids them in making better business plans and approaching financial institutions and investors with their ideas.
There are many benefits of a student going for a higher education in the field of management. It can really change the individual's life by making them more efficient, focused and even ambitious. The skills learnt in the classroom of a management institute can be relevant throughout the life. The individual may find it easier to approach new avenues in life and seek out their true calling leading to a more fulfilling life and career.