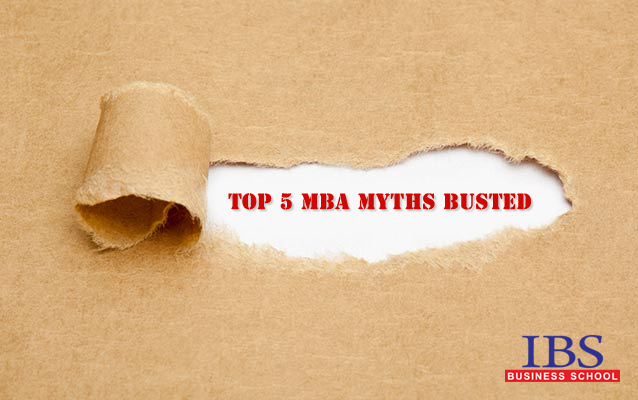 Some urban legends never die. The same holds true for quite a lot of false notions and misbeliefs pertaining to MBA. In this article, I'll try to spell out the top 5 MBA related myths which still exist in the minds of thousands of aspiring business graduates every year. Here they are:
Myth # 1
MBA's are masters of deceitful non-sense
A non-MBA businessman acquaintance of mine once told me that "manipulation by way of using fancy jargon is only what students are taught at B-Schools." His opinion epitomizes the mainstream standpoint of people with pitiful ignorance about the course. The thought of explaining him that "Your pre-conceived notion is a subset of monotonically engineered old-school pontificate and an immediate need of paradigm shift is desirable" occurred in my mind but I didn't say it aloud. On a serious note, I think this commonly perceived idea about MBA's is terribly misinterpreted. And the usual business jargon time and again deployed by business graduates is often misconstrued as high and mighty arrogance.
On the contrary, lingual geek-speak of a B-School graduate is the culmination of two grueling years of hard-work in various areas of management education. The lingo, which may sound gibberish to a layman is a naturally ingrained ingredient for all management students. In fact, it's a vital component for many marketers for all kinds of Brand-Building exercises. It considerably reduces the time of communication between two business associates. As far as deceit is concerned, we are all aware that it exists in every profession and depends on the ethics of a person. So, pin-pointing it solely on MBA's is not a wise thing to do.
Myth # 2
Businessmen/Professionals don't need an MBA degree
At the outset, I would like to clarify that MBA is not a prerequisite for managing a successful business. However, business education apart from imparting practical knowledge of business principles will help a person become aware of the stumbling blocks on which other businesses have struggled. It is particularly useful for aspiring businessmen who possess an entrepreneurial spirit but lack the analytical skills to undertake calculated risks to upscale their existing business or meticulously draw out and subsequently implement an innovative idea.
I am of the view that real-world business experience and a standard MBA curriculum complement each other very well. If one has prior business experience then he'll likely derive much more from the course compared to an absolute fresher. The same hold true for working professionals in various fields. The confidence gained from the vast knowledge acquired will significantly increase the chances of success and also reduce the chances of failure for businessmen and managerial executives alike. It will give them an edge over others.
Myth # 3
Soft Skills classes need not be paid attention to
Why do top employers of the country hire say, an MBA in Finance when he can easily recruit a more technically suitable candidate say, a Chartered Accountant/CFA or even a simple post-graduate in Finance/Accounting. The primary reason is that they want a complete all-round package and a B-School is the best place for him to search for such versatility. In addition to the area of core competency, a business graduate is also expected to be an expert written and oral communicator, is adaptable, presentable and has the ability to negotiate on behalf on the company.
But the problem is Soft Skills are still invariably given lesser importance than they deserve. 90% of the students don't understand its significance in the corporate world. Your technical skills will get you a job but your appraisals and promotions will be supremely dependent on your soft skills. Hard-skills can somehow be learned from books. That's not the case with its softer counterpart, which requires proper training by specialized faculty who are expert in the domain of personality grooming and business etiquette. Ask yourself. Have you ever met a senior level executive in any organization who has a lackluster personality or a dreary disposition? I suppose not. Because at the top of the corporate ladder, there aren't any.
Myth # 4
MBA is a short-cut to Success, Money and Fame
A generic belief prevails that an MBA degree from a premium institution is directly proportional to your career growth and the road to a 5 digit monthly salary. Please don't get lured into the trap of a false sense of security. The confidence that is acquired post-MBA gives you a feeling of invincibility. But unfortunately the feeling is short-lived. I have met students from various B-Schools who are under-achieving professional failures, went into depression and out of jobs.
Always remember that getting MBA education is a great opportunity but nothing will be served to you on a platter. Nothing will be given to you as a birthright. You have to earn it at every step of the corporate ladder. Even an IIM degree does not guarantee success. You will need to consistently work hard and also accept failures as part of the game. The road to monetary success and personal growth depends on how ambitious you are and what are your individual priorities.
Myth # 5
During MBA, your previous educational background does not matter
Right from the selection process of B-Schools (though its perhaps unintentional), the evaluation tests are designed in such a way that it favors students from an engineering background the most. Then, during the entire course, it becomes relatively easier for people from Commerce background to understand the theoretical notions of business related subjects like Marketing Management, Managerial Economics, Financial Accounting and Basic Principles of Business Management. The 1st two semesters are a piece of cake for them in many aspects. Being a science graduate, I genuinely felt that. It was an unforgettably hellish experience for me.
Then there are experienced professionals and businessmen, who are bound to have an edge over others owing to their practical knowledge of fundamental business concepts. Students who are at a major disadvantage are those who belong to the likes of arts, humanities, law or medicine branches. It can't be belied that ultimately their grades will suffer because of that. They have to put a substantially extra amount of effort to match their mental wavelength. I, being a plain Science graduate had to face the same kind of problems especially during the first year. But this additional pressure undoubtedly makes the entire MBA journey more intense, dramatic and full of action-packed ups and downs. I am positive that you are going to love every second of it.
Contributed By : Pranshu Awasthi (Class of 2007, IBS Gurgaon)