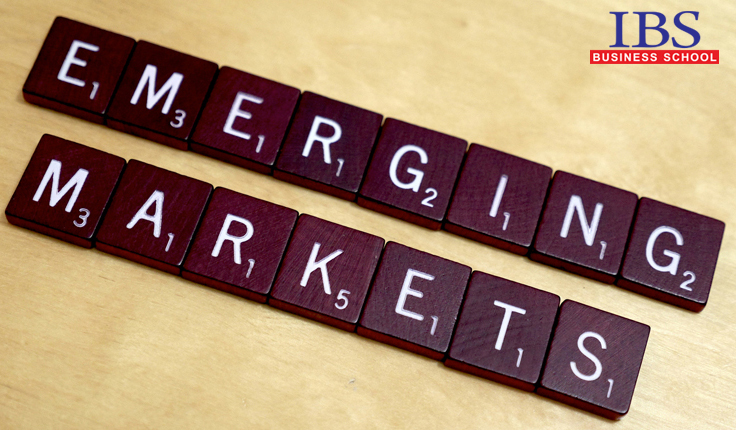 Emerging Markets are slowing and their divergence is increasing. Yet, they offer immense potential which is worth considering. Each emerging market today is different from each other. While China is going for a managed slowdown, India's story is extremely positive on the back of reforms and pro-active business reforms from the Government of India.
Did you know?
According to United Nations Conference on Trade and Development (UNCTAD), developing and emerging economies' global foreign direct investment (FDI) share increased to 52% in 2013 from 29% in 2007. They overtook developed markets for the first time in 2012.
In 2007, all the top 20 companies in Forbes 2000 list were from developed markets (US: 9; European countries: 10; Japan: 1). In 2013, 7 of the top 20 companies were from emerging markets (China: 5; Brazil: 1; Russia: 1; US: 9; Europe: 4).
Developing economies share of world's merchandise exports increased to 45% in 2013 — up from 34% in 2004. At the same time, the share of developed economies dropped to 51% from 63%.
Between 1980 and 2000, just 5% of the world's 500 largest companies were from emerging markets. This ratio is now about 25% and is expected to climb to more than 45% by 2025.
The real average wage growth in emerging economies has outpaced the wage growth in the developed economies. In the years from 2000 to 2011, the real wages almost tripled in Eastern Europe and Central Asia, doubled in Asia, increased by around 20% in Africa and 15% in Latin America, while the developed economies had a meager 5% growth.
Five things that an emerging market will offer you:
Stability of employment:
Many emerging markets are boosting their efforts to grow employment in their respective countries. For instance, in India, the Government recently launched a program called 'Skill India' to create skill set ready workforce. The initiative will provide training to over 500 million youth by 2020, to make them employable directly. The skilled population can be assured of stability in their jobs as there is a dearth of employable people in many emerging markets. Additionally, stability comes from the fact that the jobs market in emerging economies are not yet exhausted (compared to some large developing economies) and there is a great potential to leverage job opportunities further.
Growth in money:
One of the most important factors that you consider today is growth for yourself. Emerging markets will definitely provide you more growth opportunities than any developed economy. In its April 2015 World Economic Outlook, the International Monetary Fund stated that growth in developing and emerging economies will be 4.3% as compared to 2.4% in advanced economies in 2015. Although the pace of growth has slowed in many emerging markets, they will continue to account 70% of global growth share in 2015. The chances of creating wealth of self are bright in emerging markets.
Power to control:
In any situation, you will feel more powerful in an emerging economy as compared to a developed one. There are a variety of reasons for that. First being the size (Nominal GDP) of emerging economies which is smaller than the developed ones. Therefore the span of control is always higher. Secondly, the laws and regulations in emerging economies are not as stringent as in the developed ones. This gives enough room to people with money and influence to have a control over various things. However, this could be a short-lived phenomenon. As emerging economies tighten their regulatory and judicial systems, the 'power to control' will be more uniform across developed and emerging economies.
An opportunity to be among the global middle class:
Emerging economies will not be only rapidly growing but will also have young populations that will produce a surge of middle income consumers. The World Bank projects that 50% of the total global stock of capital will reside in the developing world by 2030 (up from 33% in 2010), illustrating the shift in the global distribution of wealth. These fast-growing countries will become the prime markets for global and home-grown companies. There is a great opportunity for professionals to start their own ventures in these economies and enjoy the long-term benefits.
Opportunity to innovate:
Emerging economies offer a lot of potential for indigenous and cheap innovation. Students who are smart and business minded will find their ways by creating new business models. These students will also be the creators of demand for new products and services. Many incubators have found success in emerging markets as the cost of innovating and failure is less as compared to matured markets.
Threats you need to plan for:
Political issues: Your plans in emerging economies can go for a toss if a particular country (you are interested in) has political issues. In the recent past several emerging markets such as Russia, Ukraine and some economies in the Middle East have witnessed political issues which have adversely impacted the societies, businesses and future prospects.
Ease of doing business: It is not always easy to start and run business in an emerging market. For instance, India ranks 158 out of 184 countries for starting a business in World Banks's Doing Business 2015 indicators. Individuals who are planning to do business in an emerging market must have cordial relationships with the government and the local authorities for faster implementation of their programs.
Currency fluctuations: In the recent past, currencies of many EMs have fluctuated including that of Turkey, Brazil, Nigeria, Indonesia, Mexico, South Africa, etc. The emerging market currencies are highly dependent on the movement of US dollar and US fed rates. People who plan to do business in the emerging markets must have long term currency hedging contracts to avoid unnecessary loses.
The overall outlook for emerging markets remains strong and promising. Emerging markets such as Latin America and China, which have high trade exposure to the US are expected to benefit, while those reliant on demand from the Euro area will feel the pressure (Eastern Europe, Northern and Sub-Saharan Africa). Additionally the implementation of structural reforms (India, Kenya, Malaysia, Mexico, Nigeria) will raise business confidence, and encourage stronger investment and consumption. The immediate outlook for emerging markets is positive. IMF expects these economies to contribute 70% to global growth in 2015. EM is also likely to play a greater role in global trade as intra-EM trade is expected to rise to 33% of world trade by 2020. Individuals and students will continue to find solid opportunities for work and do businesses in emerging markets. We only need to find the right target and hit it at the right time.!
Contributed By : Virag Jain ( Class of 2010, IBS Mumbai)