Running a business is not a one-man show. It requires the help and contribution of several people with different specialization to look after individual sections. Therefore, if you are aspiring to step into the world of business then you have the option to choose the job you want to do in an organization or even when you have your own business. Business world is full of opportunities and people with appropriate knowledge and skill get the required exposure in their professional life. For students who are planning to make a career in this field must understand that there are several specializations that many colleges and universities offer across the country to pursue. Specializing in a particular sector, not only helps you gain complete knowledge of that particular business area and functionality, but also makes you indispensable in the professional world.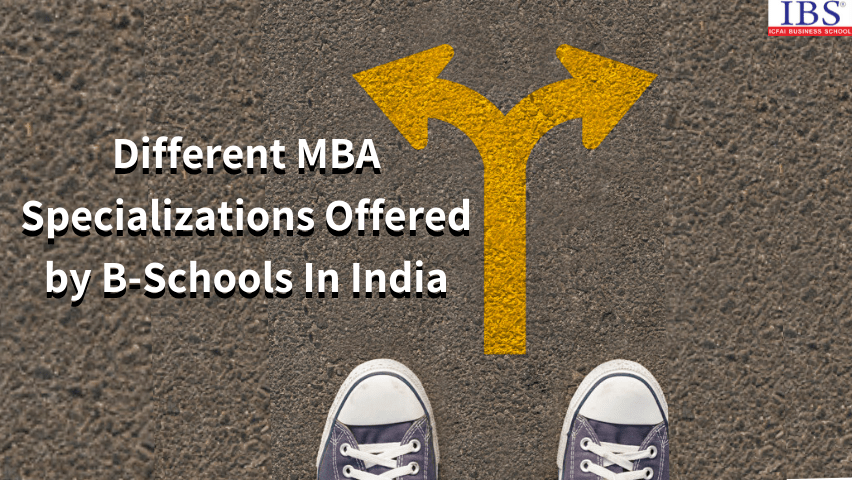 Top Colleges such as ICFAI Business School, IIMs and Xavier School of Management etc. offer a wide range of MBA specialization programs you can choose to get a post-graduation degree. Following are some of the top MBA specializations in high demand in the job market:
Finance: Finance is one of the most popular specialization for MBA. The subject teaches you to manage capital, budgeting, costing and funding of various projects and everything related to the fund of a company. A degree in finance will make you an expert in the finance department of various organizations.
Job Profile: Amongst other financial sectors such as stock exchange, the Insurance industry, financial consultant and mutual fund industry, the banking sector is always in need of experts who are highly skilled in the handling of finance. With the rapid growth in this field, there will be no dearth of jobs. A degree from a reputed college like ICFAI Business School will give you an edge over others and will help you secure a good job.
Marketing: In today's cut-throat competitive world, specialization in marketing is no less than gold. Acquiring unique skills in marketing helps you understand customer behavior, market behavior, advertisement and number of other elements of marketing.
Job Profile: Marketing is all about reaching out to your target audience through various mediums to inform and convince them of your products. This is a department that every organization has and therefore you can find a job in any firm and become Marketing Manager, Sales Manager, Product Manager, Head of Digital Marketing and many other profiles.
Human Resource Management: Any business is incomplete without its workforce. The functioning of different departments and sections requires skilled and expert employees. A degree in Human Resource Management helps you acquire the skill to recruit the right workforce, manage acquisitions and mergers and cater to demand and supply of workforce.
Job Profile: A degree in Human Resource Management can get you a job in topmost organizations across the globe. With gradual growth in your career, you can start as an executive and go on to become Team Leader, Assistant HR Manager, Senior HR Manager and ultimately Chief HR Officer
International Business: As we already know, the world of business exploded with globalization. Specialization in International Business Management teaches you the management of International Finance, International Logistics, Marketing and Foreign Exchange. It opens up opportunities to travel and cater to clients globally.
Job Profile: An individual with specialization in International Business can get jobs in both India as well as international firms which is quite advantageous. You will be eligible for major professional roles in various firms and acquire positions such as Business Development Director, International Foreign Policy Advisor, Multinational Manager and several such job profiles.
Information Technology: Acquiring an MBA degree in Information technology will teach you database management, computer security, systems analysis and effectively manage planning, designing, and implementing upcoming technologies into various in-house projects as well as for clients.
Job Profile: While there are professionals who are dedicated in the innovation and development of technology, it is the job of management professionals to ensure that implementation is in a profitable manner in order to ensure growth of business and as an extension to the end-users as well.
Rural Management: Rural Management is a comparatively new specialization in management programs, but has garnered much attention from professionals across the country. Students are taught to focus on development of rural India and creating financial opportunities for them by utilizing their skills. Majoring in Rural Management gives you a chance to learn rural economy, management of rural business and much more.
Job Profile: There is tremendous job potential in the rural management job market. You can directly get associated with government organizations and work on various initiatives for the upliftment of rural livelihood. You get to utilize your degree in working towards solving major challenges in rural India, and ensure upliftment of the rural society. You will get jobs with government research institutes dedicated to rural areas, non-government organizations, and head rural development projects.
There are plenty of opportunities ready to be grabbed by students and make a career out of it with a business degree. So, determine your field of interest and choose your specialization.