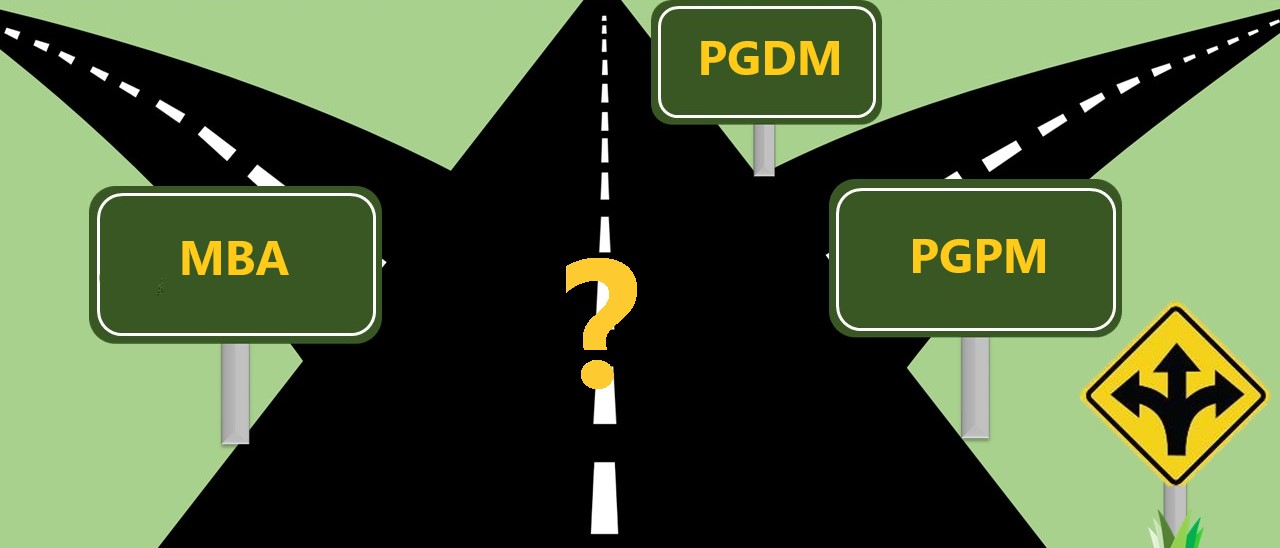 Management education has come up as a very lucrative and career defining field of studies for the fresh graduates worldwide. Doing your post graduate studies in the field of business management can lead to the development of skills and knowledge necessary in this demanding field of work. Selecting the right business management course is the first and most important step that the student takes towards starting a new career in this field. The graduates these days are spoil for choices for their pick of right institute and courses, with options ranging from MBA to PGDM to PGPM courses with subtle differences separating the three.
For many other non-management courses in India, the differences might be much bigger and choosing the degree over the diploma would be a no brainer. That is not true in the management courses, where the offerings are all more similar than different and all have their own strength and weaknesses with no clear winners. It is easy to get confused and subsequently feel lost while selecting the right course leading to a big bright future. The choice becomes even more difficult to make when you consider the fact that some of the most highly prized management courses at top B schools in India are a mix of all three types, and all have excellent prospects. Here we explore all three to understand the finer difference and make an informed decision.
MBA (Masters in Business Administration)
The name of the course MBA has been synonymous with the management education in India and has maximum number of courses being offered under it. The MBA programs are offered throughout India and they have an excellent reputation in the market. There are a few things that set an MBA apart from the other management courses, such as:
MBA is a "Masters" degree course (10 + 2 + 3) offered by leading business schools in India.
To offer an MBA, the institute must be accredited by a university which enables the B School to award the degree.
MBA courses are universally accepted and they enable the students to go for their doctorate program effortlessly from any university in the world. This makes them an excellent choice for students who wish to pursue a career in academics or research.
The management institute has less autonomy over the course since it is regulated through the accredited university and they can't change the curriculum very frequently.
Usually MBA degrees are considered more theoretical than the others with a strong academically focus.
MBA can be offered in a two-year format for students who have just finished their graduation in any stream and in a one-year format for students having some work experience (2 to 5 years) after their graduation.
Broad focus on management education with more emphasis on classroom based theoretical understanding of the management subjects.
PGDM (Post Graduate Diploma in Management)
PGDM is a course which is alike MBA in time and execution, but usually is more expensive than an MBA. The course PGDM is more flexible than an MBA but less standardized since the PGDM course does not require an accreditation from a university. There are a few more things which set a PGDM apart from other management courses, such as:
A PGDM course is awarded by autonomous institutes which are not affiliated by any university.
The fact that they are not regulated through a university gives them a little less stability but more control over their curriculum.
Since they are diplomas and not degrees offered by affiliated universities, many students prefer MBA over PGDM courses.
The PGDM courses are more specialized and are aimed to provide better focused on a specialized field of management, such as Human Resources, Supply Chain Management, Retail, Sales and Marketing and many more. An MBA in contrast, aims to provide education in a more balanced way across all fields of management.
The curriculum of the PGDM program is more specialized and less comprehensive; it covers less ground than an MBA program.
A PGDM institute must have approval from AICTE to be considered an equivalent of the MBA program.
Perception of the B School plays an important part since a PGDM from a sub-standard institute may not have any value to the student
PGDM alumni need an MBA equivalent certificate to secure a job at international market.
PGPM (Post Graduate Program in Management)
Apart from MBA and PGDM, there also a third category of post graduate management education called PGPM. PGPMs are flexible certification programs. The Institutes may freely collaborate with other institutes or societies to put together a specialized offering. Some of the salient features of this type of course are:
Usually opted by professionals.
Offers a lot of flexibility in learning.
Course is more fluid and adjusts well to suit the need of the hour.
A more budget friendly option compared to full time MBA or PGDM.
Industry driven and business centric approach with often faculties from reputed MBA or PGDM colleges.
Does not focus on creating ground for further academics or fellowship.
Entrance is the combination of entrance examinations and experience cut-off as specified by the institute.
Understanding the crucial difference between PGDM, PGPM and MBA is required for the students who are looking for a career in the management field. Understanding this can help them choose the right course for their management education and differentiate the offerings of top business schools in India. These courses are professionally oriented and can create a big difference in the career path of a fresher and experienced professional alike.