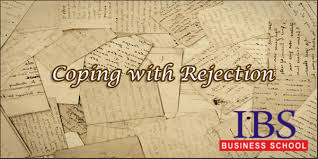 There is a throng just in front of the notice board for the 'Final Selects' list of a company is out. You struggle through the ocean of people and make it to the list. You place your finger on the first name on the list and scroll it down to the last but unfortunately you don't find your name in it. The smile dies on your lips and you lose all your hopes for making it to the C-World. You lose your strength to buckle up once again for the entire process of selection. But why don't you find a way to clear the next interview in your last rejection? Yes! Let's bring in limelight some of the ways to cope with interview rejections and taking lessons from them to clear the next selection process.
Prepare Yourself –

1.          Before the interview : It is said that the Prevention is better than cure. You know about yourself everything but little do you know about the company. Do your "Homework" before sitting for the interview. Browse through the web pages of the company, try to know their future plans and most importantly get familiar with their products (or services).             2.         After the Interview : In worst case scenario if you get this intuition that you won't be able to make through the interview then prepare yourself mentally for the outcome. Don't give yourself false hopes because that might lead to distraction from future selection processes. Nevertheless, in any case don't forget to follow the following points.
Learn from your mistakes –

Either we feel very low or we indulge ourselves in preparing for the next interview just after we face a rejection. In both the circumstances we forget to review our performance in the last interview. We definitely know what all questions and areas have led us to the rejection but rather than giving those areas a time we jump over to the preparation of next process. Though in the next interview we might not face the same questions but if those questions come in another form we should be able to tackle them easily. Hence make sure to correct yourself on those questions which have led to your rejection.
Have a word with the selected candidates –

Try to approach those colleagues of yours who have cleared the interview and made it to that company. Ask them about the questions they were asked during the interview and the way they answered it. You even adopt this approach even before appearing for any interview.
Take Feedback –

Almost every one of us don't even remember the face of the people sitting behind the desk at the time of interview once we face a rejection from them. But if we could network with the interviewer after the process is over we could take a qualitative feedback on our performance and could polish the areas which led us to denial. One of the ways to reach Interviewer is with the help of references, if any, mentioned in the resume.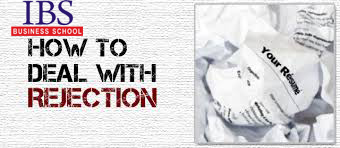 Don't feel blue about it –

Once it comes to your knowledge that you have been refused by the company don't get depressed and feel sick about it. Rejections can happen with anyone and everyone. Rather stay motivated and remain focus for the next interview process. Taking the spoils of the last rejection to the fresh interview might again lead you to turmoil.
Remember it is not personal –

'They [Interviewer] didn't like my graduation college or university', 'Because I am from this city or state he or she rejected me', 'I am rejected because I don't know a particular language' etc. thoughts races in your mind after you have been rejected by the firm. Remember if they want a candidate from a specific state or city who could speak a specific language then they definitely mention it at the time they come to recruit otherwise you are accepted or rejected on the basis of your performance only. Interview is truly a professional way of hiring.
Don't cry foul over intentional rejection –

Let's face the fact. Sometime it so happens that at the last momentin the interview hall you change your mind to get into the company. Either because you get to know the actual work from the interviewer and you don't like it or there is some catch in the pay. You try your best to bungle up the interview in such cases. Also, everything ran as smooth as silk but when it came to the salary negotiation part or Job location part you didn't agree with the employer. In both the cases you knew the outcome but when the result was declared and you didn't find your name in the list you were all depressed to prepare for the next process. Hence try to overcome such situations rapidly.
Control you emotions –

As mentioned above that rejections are not done because of personal grudges. Keeping the same in mind make sure that you don't blow a gasket against the firm which has rejected you and bad mouth about it everywhere.Even after giving your best you are rejected don't speak ill of the company because that does not count under the professionalism. And in future if again an opportunity arises in the same firm you might end up cursing yourself for your behavior after your rejection.
Go for Mock Interviews –

There is a lot of difference between college entrance interview and a job interview. You might have been a part of lots of college entrance interview but if job interview is completely new on you then take your time before hoping from one job interview to another. If you face a rejection make sure you enroll yourself in some mock interview sessions and get a detailed feedback over the same. Well, as a part of IBS family then luckily you need not have to worry about it. Just before the placement season the management organizes GD & PI mock sessions for each and every student. The professor becomes the interviewer and that way you get a constructive performance review from them.
Adopt conservative approach –

You are from a Marketing stream. That does not mean in any way that you fit in each and every firm which is there to recruit marketing students. The firm might be looking for some Marketing Research student and you don't have even the bits and bobs of this discipline with you. Hence be very selective about the firm so as to avoid the fear of rejection repeatedly.
Rejections come to everyone. Unless you are rejected in your life you won't be able to enjoy the taste of acceptance. Rather than mulling again and again over the rejection, take some positive out of it and carry the same to the next interview. And always remember to keep a positive attitude even if you are rejected.
---
Contributed by Hasan Ali Gumani (Class of 2014, IBS HYDERABAD)