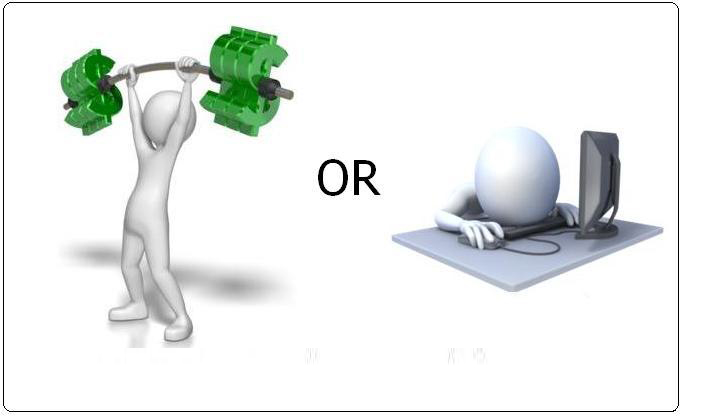 'Congratulations! You are hired.' A sentence which almost every MBA student, after the successful completion of his/her two years course, would like to hear from the recruiters.  But wait! Is the company offering you a profile which you always wanted? Is the profile matching your MBA subjects which you opted?
There are cases in which one gets a profile with no parallel relation with that person's specialization. Rationale behind the same could be a good performance in the interview with the bits and bobs of subjects learned before the specialization year or perhaps the interviewer is looking for a more practical and an all-rounder person than a mere 'I-only-know-about-my-specialization' type. Now, In case you have ended up in a job like that then time to look at the half fill portion of the glass.
Firstly, you have to fathom out that a corporate is not a place where you throw up whatever you have learned during your MBA. It is a practical world where you simply cannot execute any bookish strategy without giving heads and tails of the same to your superiors. On this notion, your MBA fundasare already kept aside from the very beginning and you are welcomed to see the market from an eagle-eye view.
But then this notion leads to a 'Why MBA?' paradox.  That is to make you aware of the technical aspects of the stuffs going on in an organization in a much generalized manner.
Since you were not adhered to any one field from the very start, it also gives you a flexibility to work in other departments of the firm too provided the other work does not breach the boundary of tasks, an MBA can perform successfully. For instance, besides having a finance background you are appointed as an Inventory manager at a Hotel cum Restaurant. That at no point means that you can gear up yourself to work in kitchen as a chef. Hence, this 'job stream MBA stream' mismatch can earn you a tour of every department of an organization.
Talking about other departments, the spotlight now shifts on Inter Departmental Promotions. Suppose a vacancy has been just declared in a department where you had lend a hand previously. Now an organization also cut corners wherever possible. Rather than going for a full-fledged recruitment campaign for that single vacancy it might promote you for the fact that you had contributed in that department before.
Another primacy edge of 'Profile& Specialization' mismatch comes to aid when you are bitten by the Entrepreneurship bug. You are now all set to open a venture of your own after taking few years of corporate experience so not only it opens the doors of most of the industries for you to establish a firm but also it blesses you with a wisdom of managing the various departments of your firm with an equal understanding about the affairs arising out of them.
Not only at the time of setting a new venture but at the time of job change too it somewhat has the same role to play.  If you have a practical experience of other specialization and a better opportunity has arisen in some other firm, it might give you an edge over the others.
Try to look at the same scenario from the eyes of other players of the industry. They are lacking in a particular department where you have tried your hands before. Though, presently, you are working on a profile which you have mastered in at the time of MBA but you would be nodding your head for a better opportunity if that player approaches you with a proposal to work with him on another profile.
However, everything comes with a price tag and this 'mismatch extravaganza' too has some cons attached to it.
As mentioned above that this mismatch can help in job change. The same could be a curse when it comes to changing your job. Many corporate houses invite applications to fill a vacancy and mostly they prefer the experience holder to take the responsibilities and authorities of that vacant post. Even though the profile matches your core specialization but since you were working on different profile, the years of work experience you have would not come for your rescue. And perhaps you end up not getting that job.
Another major disadvantage of such a mismatch is the lack of interest from the work. You have entered an organization on the bits and pieces of a discipline. Now when your actual work demands for more technical details which you could have obtained only if you had taken that subject as your specialization and not otherwise. In such a case you lose interest in your work, the work is gets piled up every single day and all you feel is helplessness because you are not aware of the tools and techniques require to handle such work.One things leads to another. The same may get reflected at your appraisal time or when you sit for reviews with your superiors.
Though this one might not exactly fall under the category of cons but would rather depend from person to person's ability of recalling the concepts. With the passage of time you might face challenges in recalling the technical aspects and also the concepts of the specialization you have mastered at. The  different stream involve you so much in it that you might not even stay updated with the latest happenings in your specialization field. This only becomes a hurdle at the time of Job change when you are appearing for a test or an interview. It can be overcome too by mere brushing up your concepts and looking for sources where you could get the updated information from.
Towards the end, look at the brighter side of this 'Mismatch Mess'. You are gaining more and technically you are not at all losing anything. It can be clearly seen that the Pros have clearly outnumbered the cons. However, there is no sure shot yes or no for the query that whether or not one should go for such a job which has a clash with the specialization. Though it is clearly a subjective issue but this is something which you cannot afford to overlook.
Contributed by Hasan Ali Gumani ( Class of 2012-2014, IBS HYDERABAD )