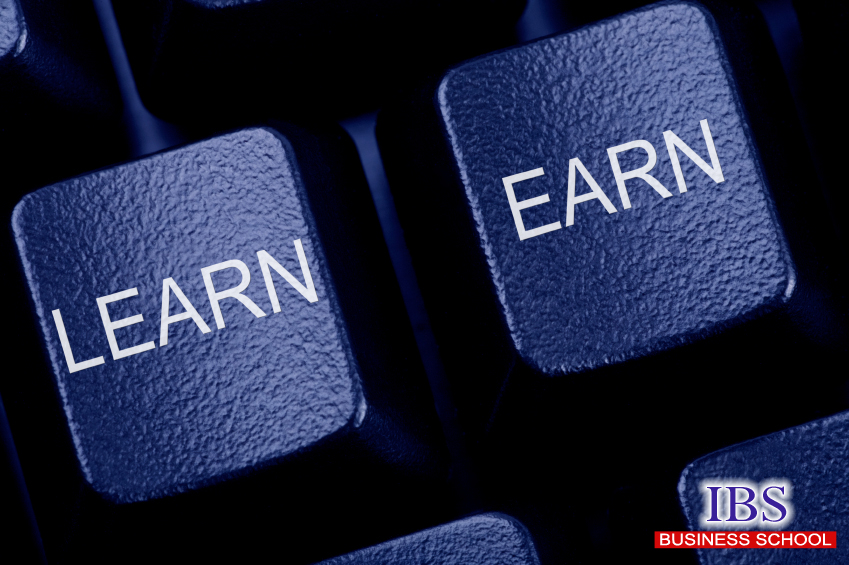 Generally it is felt that MBA is a course and need to be spent in studying, understanding the concepts and reading the case studies but this used be in 90's. Presently the MBA is a dynamic degree and is more practical oriented it's not the time to just study but two years you can utilize in  giving wings to your entrepreneurship, in enhancing your skillset. Generally people do 2 to 3 months internship during the 2 year MBA program but you can utilize the remaining period also in developing skills other than the normal curriculum study.
You can also earn while doing your MBA. Many people have started there venture while still in college and by the time the campus placement come they are earning 10 times of what they being offered as the first job salary.
Few tips of earning money while still in college
You can start your own venture
You have time during this period to think about some business plans, you can start working towards it doing some research and learn the market dynamics and can start it on a pilot basis and cater to a small market or area and earn money like people have started the concept of chai point in a small area and after seeing its success have scaled it up and open chain of it.
You can teach your juniors
You are smart and intelligent in comparison to others why not reap the benefit and earn extra bucks. You can on a personal basis can assist and teach the juniors and earn pocket money and can in a way help your parents by being self dependent as well as it also helps to brush up your concepts.
You can write articles and contribute in publications
If you have a good writing skill set you can use to and can tie up with publication houses or journals and can provide good stuff and you will gain popularity as well earn a place in the market. It's also gives an edge by understanding the different subject matter beside your curriculum.
You can score high and can earn scholarship
There is another way of earning by scoring high in the semesters and can save your fee by earning scholarship. As most college these days have scholar ship program's
It over all will help on saving and save you from the education loan debt burden.
You can also apply for new scholarships and grants.
A lot of students think that they are only eligible for funding when they initially apply for admission. This is a mistake! There are often new scholarship opportunities for upperclassmen, though they aren't always widely advertised. You may also be able to apply for external scholarships or grants, which are offered from groups outside of your school .Begin by scoping out bulletin boards on campus and paying careful attention to email announcements. You can also search online for new funding opportunities, and there are apps that you can download for free (or for very little, such as the app Scholly, available for just $.99) that can help you tailor your search.
You can bring companies to campus placement
These days colleges have various remunerating schemes they pass on the bonus to the students if there bring the companies to the college. You can also on part time basis assist the placement cell in its various functions.
You can do research work for corporate and college
The college bags the project from the corporate in the basis of the quality of the students the college and the inclination of the college towards research. The college can give rewards to students on the basis of his or her contribution in the project.
Most campuses have a Career Services office which counsels students on job market possibilities, and which helps prepare them for applying and interviewing as they near graduation. Don't think, however, that you should only use this resource as a senior.
You can often find advertisements for paid internships and part-time work in your field of study at the Career Services office.
Finding these opportunities early in your studies will not only help you excel in your field and build up your resume, but can add some much need cash to your wallet while you learn.
Enter academic competitions
You can pretty regularly find advertisements for essay contests and scholarly competitions (such as science or engineering competitions) which offer cash prizes for the top performers.
Be on the lookout for these opportunities by regularly checking the bulletin boards around campus (begin by looking in academic departments and the library), going through your email carefully, and by going directly to your advisor and/or professors to see if they know of any such competitions for which you may be a good fit.
Even if you don't win, you'll get experience in your field, make connections, and build up your portfolio or work.
Sell your textbooks at the end of the term
One of your biggest expenses may be the cash you have to set aside for textbooks. You can usually get a good chunk of your money back at the end of the term by selling back your books.
Campus bookstores will sometimes buy back books, but many campuses also allow independent companies to set up shop at the end of the term. You can also scope out used bookstores in the area to see if they buy used books.
To improve your odds of being able to sell a book (or fetch a good price for it), take care of your books throughout the semester, and avoid marking up the pages with notes and highlighters.
If you are good with the written word, you should be able to find plenty of opportunities to write (or edit others' work) online. Search for freelance writing and editing gigs. The rates for these jobs vary: you may be paid by the word, be offered a flat rate for a project, or in some cases can be paid an hourly rate. You typically won't be able to retain copyright over your work or collect royalties, however. Even so, by doing freelance work you can build a portfolio and make valuable connections which may later pay off with more stable job opportunities.
You can earn from extracurricular activities
If you know something and being an expert whether in playing piano or dancing or in playing something like boxing or taekwondo or yoga or swimming you can join hand with college and can earn by training and teaching people.
You can also join some NGO and can help them in their functioning and can earn an extra income as well as real life experience.
Can negotiate with various agencies
Since you have a mass of MBA colleague you can bargain or negotiate with anybody for any goods and services with any supplier or service provider and can save your money as well as your colleague money.
Contributed By : Maneesh Srivastava ( Class of 2008, IBS Gurgaon)