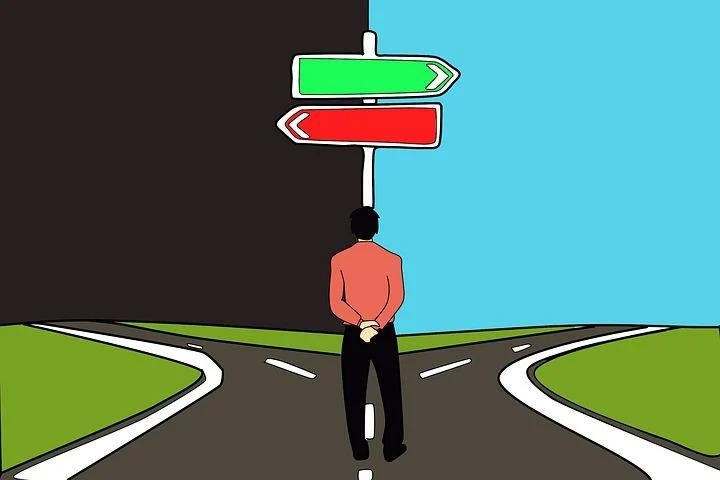 As a student, I made multiple decisions and choices to direct myself toward my goals. The decisions made during student life are very crucial. A decision can lead you towards the goal or away from it. I took multiple decisions which proved to be either effective or less effective. Generally, everyone puts an effort to make the right decision. The concept of decision or choice-making is logical, and various scholars define it in multiple ways.
"Whether you think you can or you think you can't, you're right." Henry Ford
"I don't believe in taking right decisions. I take decision and then make them right"
Ratan Naval Tata
I was a student of a humanity background. And I had a dream to join the Corporate World. I was wondering about the ways to join it. Then I came to know about the Master of Business Administration. Initially, I thought that only the students of science background or commerce background apply to it. But after going through the eligibility criteria, I was ensured that humanity background students can also apply. Now the next thing was to get admission to the best Business school. Eventually, I had information about Common Admission Test and other tests taken by the Business Schools individually.
I had applied for the Common Admission Test-2021 and for other admission tests conducted by various Business Schools. One of them was ICFAI Business School Aptitude Test-2021 commonly known as IBSAT. ICFAI Business School Aptitude test offered me admission to one of its nine campuses across India on the basis of merit.
After the entrance exam, my result was declared, and I qualified for admission to three Business Schools. But I have to choose one of these schools. So, I was looking forward to meet the students of these B-schools and their alumni. I asked them about faculties, environment, and general or special facilities, placements scenario. And most of them helped me a lot in making a choice based on their reviews and recommendations.
After a brief discussion about all these three Business Schools, I was sure to join ICFAI Business School. It is not the end of choices and decisions. I had to fill in the campus preferences among their nine campuses. I choose Gurgaon as my first preference, Jaipur, Mumbai, Bangalore, Dehradun, and so on. Fortunately, the administration allotted me the Gurgaon campus on a merit base.
Now it is time to assess my decision of deciding this campus of ICFAI Business School. In the first few weeks, I was confident that this is the best Business School which I was waiting for. I admire the culture of this campus and the facilities I get, such as campus size with a large playground, Wi-Fi coverage, digital access to the library, smart classes, mentoring sessions, modernized computer lab, etc.
These are the essential facilities for me including their learning environment having curricular and extracurricular activities. It offers multiple cells of different domains, and I may choose any one of the cells best to enhance my personality, communication skills and knowledge through participation in various events.
Now, I can say that I got more than what I was expecting from a Business School. Moreover, the Personality development program, English language proficiency workshop, one-on-one mentoring sessions, guest lectures, mock interviews for placements, and special classes for relevant software or tools are a cherry on the top.
I also get to know that ICFAI Business School also provides a 14-week summer internship program, at least one certification course related to domain, formal visits to multiple organizations, and many more. The overall working structure of ICFAI Business School is student-oriented in reality. It diligently focuses upon the needs and requirements of the corporate world regularly and delivers the same by preparing every student in multiple aspects.
Therefore, I can say that I got more than my expectations, and my choice has proven to be the right choice. I believe this B-school will help me to get a placement in a well-deserved organization and make my dream come true.