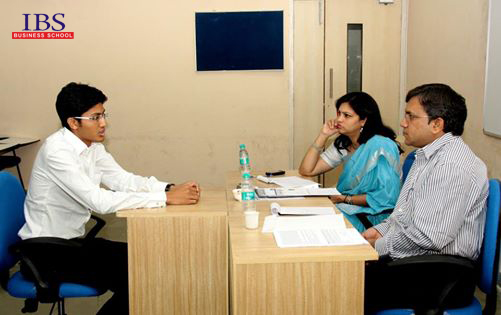 The personal interview (PI) is a very important step towards getting admission to an MBA program in a top B-school.Therefore it is very important for MBA aspirants to take it seriously in every aspect. MBA institutes aim to judge the candidates' future goals, thinking process, knowledge, personality traits, and communication skills with the help of a personal interview round, a part of the admission process.
The personal interview offers a good way to sell yourself effectively in front of the interview panel. While many MBA aspirants would feel nervous or get intimidated before the interview, it presents a good opportunity to express your academic credentials and future goals in a confident manner. For some aspirants, it may even be the first interview of their life and despite months of preparation, it is impossible to predict the questions that may be asked. In such situations, it is advised that they try to enjoy their interview and take it as an opportunity to impress the panelists.
Most of the questions asked in a B-school interview range from academic and professional to the more broad discussions pertaining to life. The interviewer might not sound too serious and formal, but he has the job of assessing you on parameters such as your inter-personal and communicative skills and to know your vision as an MBA aspirant. Remember that you are not expected to know everything during the interview as the panel is well aware that you are just a student at this stage. So, be honest and accept that you don't know a certain things if that be the case.
Objective of the Personal Interview
The personal interview aims to evaluate the views and information presented in the candidates' application and performance in the previous rounds of the admission process. Some common questions pertaining to academic background, work experience (if any) and general knowledge are asked in order to evaluate the accuracy, depth and consistency of the candidate's knowledge. B-schools tend to give importance to candidates, who have consistently performed well in their academics. This shows that these candidates possess academic discipline, focus and character to survive the testing times of the corporate sector.
Almost all the questions asked in a personal interview help evaluate the applicants':
Clarity of the Goal
Knowledge
Communication Skills
Attitude
Let's have a look at some of the most common questions asked in interviews for admission to B-school of your choice.
Tell us something about yourself or introduce yourself
Perhaps the first question at every interview, this is the one that you must be prepared for. The only question which has a sure shot predictability, you should be able to answer it in a structured, confident, and crisp manner. Your answer to this question will shape the way the interview progresses as whatever you chose to highlight will be the basis for the next few questions. MBA aspirants should have a clear, well thought out and perhaps even well-rehearsed response to this question. You can include your personal details, professional qualification and work experience (if any), hobbies and interests, and your strengths.
The purpose of being there for the MBA program?Or Why MBA?
The answer to this question has to be tailor made to be able to justify your argument. According to a person's background and interests, the answer will have to be molded to reasonably prove the version that he is giving out. Answers such as "to make more money", "to gain more knowledge" are too abstract for this question. Talk about your career objectives & the value-addition that an MBA would provide you with.
For freshers, a suitable answer could be "to find a way to get into the corporate world to prove my capabilities" but for candidates who have some work experience, the answer should explain specifically what made them think of pursuing the course. You can tell them about your plans to switch industries or look out for growth within the same domain.
What are your strengths & weaknesses?
The answer to this question can be tricky as you would be judged on every word that you utter and in that case, you could be tempted to try to outsmart the panel members. Remember as a rule that it is just not possible to do that so, be honest and genuine in accepting your weaknesses and showing that you are making efforts to overcome them. This can indicate that you want to improve that aspect of your personality and are open to feedback. Do not be too boastful about your strengths and at the same time, do not show that your weaknesses are way too little to be bothered about.
Why do you want to join this B-school?
As an answer to this question, you should be able to reason your willingness and potential to be where you're applying for. This is your chance to tell them all that you have researched about the history of the institute, placement records, their flag ship programs, their ranking, credentials, faculty, academic and extra-curricular activities. Try and get in touch with students of the college to know these details that are not highlighted on the website to show that you have done your homework well. If possible, try to know about the faculty and the style of teaching to express interest in the institute.
Where do you see yourself 5/10 years from now? Or What are your short/long term objectives?
This is another tricky question, the answer to which should not be "in your position interviewing prospective students". You are expected to be able to answer in a manner that you justify the reason why you want to do MBA. If you have applied for an MBA in marketing, you cannot even think of sitting and interviewing students few years down the line. Also, do not give out vague answers such as "as a Vice president/ CEO". Instead, talk of specific work that you would want to see yourself doing at that point of time. For example, an HR professional can see herself devising and implementing HR policies that help maintain the work life balance of the employees of her company. Be specific and be work oriented when answering this question.
Questions from the subject of your graduation
It is not wise on your part if you assume that there will not be any panel member with knowledge of your subjects of graduation. Revise your lessons well, even if you have some work experience because chances are that you are tested on your basic knowledge of the subject matter to justify your good grades. A thorough knowledge of your subject will immediately earn you a high position in the eyes of the interviewers and help you create a positive impression in their minds.
Questions about your hobbies or what do you like to do in your free time?
Make sure that you have thought about an answer to this question and researched about the hobby to the extent that you are able to answer primary questions about it. For example, if you like to watch films in your free time, you should be able to answer things about the direction and storyline of your favorite movies, questions about your favorite genre and specific details about the recent award functions related to movies. You cannot simply get away by saying anything that comes to your mind at that moment. You are expected to have a thorough knowledge about what you say is your passion.
Who or what inspires you?
The answer to this one has to be supported by the reason why you look up to that person. The simple reason why interviewers ask such a question is that they want to know your ethics and values and if they are in line with the personality you are portraying at the interview. You cannot say that you are a great supporter of Mahatma Gandhi and non-violence earlier in the interview and then go on to state that Shaheed Bhagat Singh is your role model. Your role model or the person who inspires you does not necessarily have to be a famous figure; it could even be your family members or a former teacher. It is more important to justify the reason why you think that person is good.
While these are some of the most popular question at MBA interviews, you should understand that the interviewers can ask you totally different questions. Each interview is unique and so are candidates sitting for the interview. So, it is your smartness as to how you can be in a position to drive the interview in a direction favorable for you to be able to highlight your strengths. Prepare well and ask your friends and teachers to help you by conducting various mock interviews before you go for the actual one. All the best!