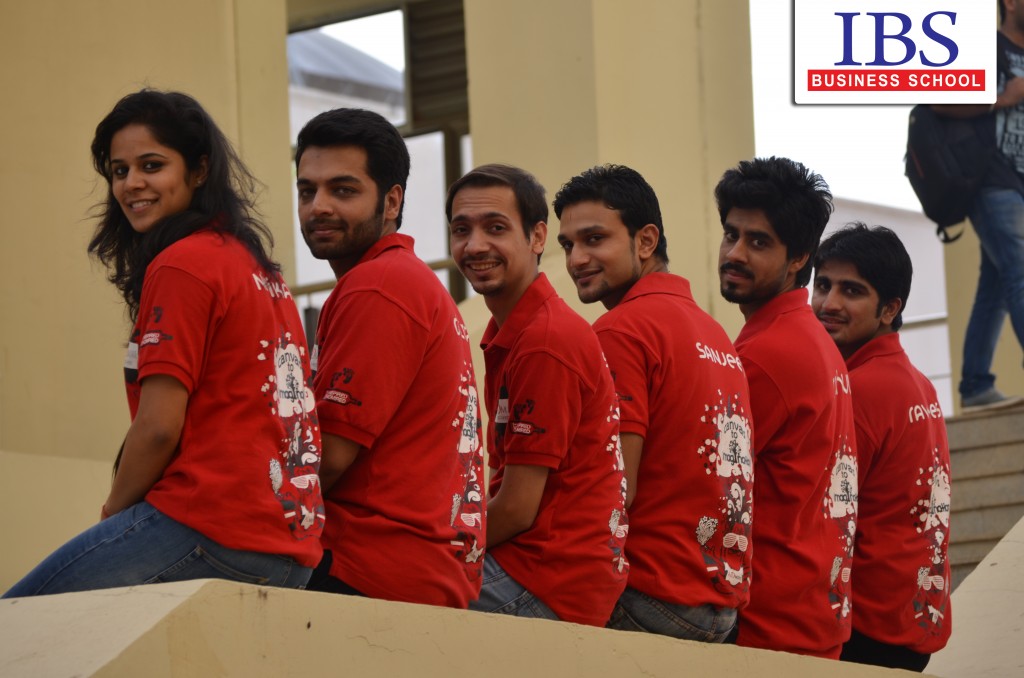 Take a bow!! You proud IBSian…
You will hear these words more often than anyone else, because you are the future IBSian.
I can actually share with you as how much proud you will feel when you will pass out from the IBS.
Today IBS is not just a Business school, but it's like a book that you will carry thru out your life…And like in a book there are many chapters, the IBS will taught you at the different stages of life.
In this article, I will share very minute and small things thru which you can easily become a core member of the IBS family and you will also learn as how the IBS family will help you in the future, if you are facing any kind of difficulties in your life…
First thing first, the Great IBS Alumni & its Vision :  To Enrich the lives of alumni by helping them establish life time relationships with not only their fellow alumni but with their alma mater. This involves encouraging meaningful involvement and leadership from all alumni to benefit the community as a whole.
The IBS Alumni Federation gives you access to a vast network of professionals and offers you endless opportunities to connect, build relationships, participate and continue to learn from the IBSAF community.
The IBS Alumni Federation is for all IBS alumni who seek personal, professional and intellectual opportunities, because your IBS advantage continues beyond graduation.
The IBS Alumni Federation is a membership organization comprising more than 35,000 alumni of IBS. Founded in 1997, the Federation has a diverse and rich history of bringing alumni together to support the Institute, its students and each other.
You can view and update your profile by visiting the IBS Alumni page.
You can search the Alumni directory and can find out all the relevant details about your Alumni's…
Even you can search the Job Board by visiting the IBS Alumni page and search thru the latest thousands of jobs posted by the fellow IBSian.
IBS Unique way of Learning: Students at IBS have the advantage of developing a cross-functional knowledge base, with good synthesis of Indian and International perspectives.
Case based Learning: IBS always stress upon the Case based Learning, which is an important component of business education at IBS. Most of the courses are taught through real-life cases, designed to help bridge the gap between management theory and practice.
Business Modeling and Simulation: IBS includes business modeling and simulation games in its curriculum for the program, to give students an introduction to business decision making.
Strong Industry interface: IBS has a strong, active and growing interface with business and industry, with experts from a range of leading companies delivering regular guest lectures and serving as members of various advisory boards.
Student Life @ Campus : The student community at IBS is truly diverse; students come from different states, social and cultural backgrounds, and all walks of life. They become a part of the IBS community, and get an unparalleled exposure to different cultures, languages and ways of living.
Student Activities is at the core of the philosophy of management education, IBS Hyderabad believes in. Co-curricular and extra-curricular activities are very much a part of the day to day life on campus.
IBS Students at the International Sports Map :  Students also participate successfully in national and international inter-business school competitions.
Two of our MBA students were among the six finalists at the Baylor – USASBE Student Case Writing Competition held in January 2015 at Tampa, Florida, USA, while a team of four MBA students were in the top six of the Baylor-USASBE Student Case Writing Competition held in January 2014 at Fort Worth, Texas, USA.
One of our MBA students represented India in the Global Youth Marketing Camp organized by Hyundai in Seoul, South Korea in February 2013. A team of two MBA students won the Second prize in the Baylor-USASBE Student Case Competition held in South Carolina, USA in January 2011.
Our students won the Global Social entrepreneurship Competition 2007 organized by University of Washington, USA, competing against students from business schools around the world.
Social Networking of IBSian : You can also get connected with the IBSians thru the different way of the social network sites…
LinkedIn : https://in.linkedin.com/in/archyd
Facebook : https://www.facebook.com/Connections.IBSH
Twitter : https://twitter.com/ibsindia1
You can easily remain connected thru the various social, networking and own IBS sites..These choices given by the IBS to all of its students so as to stay connected with their fellow colleagues  wherever they are…
Each of the IBSian is a special and unique student for the IBS Management and the methods provided above to remain connected are just a way of showing love and care to their students…
I have one live example to quote here as how much care IBS Management does for their students…When we finish our course in Jul'2005, all the students got placed, except for those who did not wish to sit for the placements, in the month of Jan-Mar'2005. There were a bunch of HR Students who got placed but was not happy with the existing employer as the set up for some of the companies were too small to accommodate these students and after a while these students got back to the IBS Management and requested for re-placements for them…as far as I think, these were the days of Jun'2005.
After hearing the story from the students, the management decided to re-start the placements for all those students and the Placement cell was asked to re-approach the companies for the placements…we were actually shocked to see the kind of help that was extended by the IBS management at that point of time to all those students who were not happy with their existing employers..
Eventually, the hard work of the Management paid off in just 2 months and all the students were got placed in some of the big companies and some students were even placed at the MNCs…one of my best friend was also in that group and today he is at Senior Position at Deloitte India and working for last 10 years now…
So as I mentioned earlier that IBS is not just a business school, it is like a book which will be with you forever for your life and each chapter of that book will give you strength and power to conquer the world!!
I am proud to be an IBSian!!
Contributed By : Himanshu Chaudhary, Class of 2003-05, IBS Hyderabad