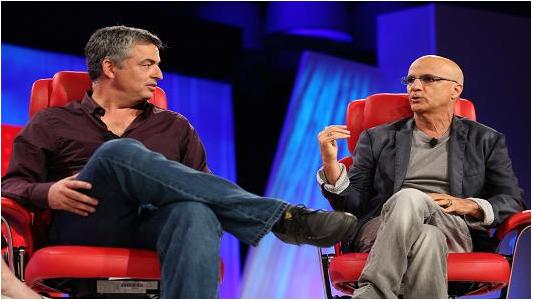 In 1999 Bill Kincaid released its brainchild to the world. It was named as SoundJam MP. The idea was simple: to give the world better musical experience. But it was still little known to the world as it did not get the expected market penetration. Apple acquired SoundJam MP in 2000. This was the company that is known to us as iTunes today. As Steve Jobs, the founder and ex-CEO of Apple puts it, iTunes was the first introduction of its kind to the music lovers of the world where people could purchase, download and listen to music, audio podcasts, watch music videos, TV shows etc. legally. As it is a very lovable user interface to the music listeners, it also helps prevent piracy in a big way.
Deal details:
On 28th May, 2014 Apple completed its latest acquisition in the form of Beats Electronics. Apple announced that its acquisition is worth 3 billion USD. The breaking of that amount includes 2.6 billion USD cash transaction and 0.4 billion USD worth of stock transaction that is expected to close by the end of 2014. Are we expected to witness similar turn of events as with iTunes? Let's wait and watch.
The Beats' way:
In 2006, famous rapper and hip-hop producer established a electronics music company 'Beats Electronics'. In 2008, it launched its first ever product: Dr. Dre headphones by Beats. The company channeled its efforts to manufacture more and more audio devices like speakers and earphones. Soon it got a popularity in the upper bracket of the music goers. One premium feature that Beats had was its outstanding and unparalleled bass sound. As Dr. Dre wanted to bestow the listeners with wholesome music experience through headphones. He sensed the market demand for such a product at that point of time. Later the company diversified in online music industry. A particular reason for its popularity was also its amazing marketing practices. It did strike one too many branding deals during several hit hip-hop and pop music release. Since that was one of the creamiest part of their share of pie, it made huge sense. By 2012, it had 64 percent market share in headphone market with the product price greater than 100 USD. Beats purchased licensing agreement to distribute its online music channel to mobile manufacturers. For a brief period of time (2011-12), HTC had majority stakes (50.1 percentage) in Beats.
Why the acquisition?
This is Apple's largest ever acquisition in terms of price tag.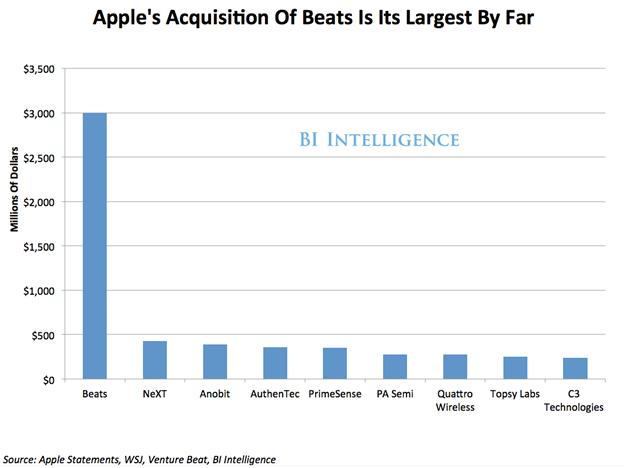 The relevance of selling iPhones:
As Apple CEO rightly puts it during the official press release of the deal, "Music is such an important part of all of our lives and holds a special place within our hearts at Apple. That's why we have kept investing in music and are bringing together these extraordinary teams so we can continue to create the most innovative music products and services in the world."
Apple is pioneer in the Smartphone market with its revolutionary iPhone and App Store and reinventing a new way of computing through iPad. If they can integrate Beats online music and headphones here, that can talk a long way to the intersection of music crowd and Smartphone users.
The dark days of iTunes:
Apart from being a revenue generator, iTunes was a major way to reach to the crowd as it was available on all the platforms. Now since the music services like Spotify and Pandora have come to the market, they are eating market share of iTunes. So, Beats can be a strategic move to give iTunes a second life.
Bringing in the marketing talent of Beats:
The marketing strategy of Beats centers around the Pepsi-Cola war survivor genius Saint John. He worked with the giants of present music industry. The list ranges from Kanye West, Nicki Minaj, Eminem to Ketty Perry and it goes on. If Apple wants to beat the likes of Google and Facebook in terms of reach, then this can prove fruitful. It can be a great way to reach the younger crowd. There are plenty of other ways to monetize on this depending on the growth plan of Apple.
Integration:
As part of the negotiations, Dr. Dre, the founder and Jimmy Iovine, the co-founder will be part of Apple's payroll. Dr. Dre is also the senior vice president of Apple now. Apple must be looking for a way for Beats to fit into the organizational structure of Apple.
According to Eddy Cue, Apple's senior vice president, "Music is such an important part of Apple's DNA and always will be. The addition of Beats will make our music lineup even better, from free streaming with iTunes Radio to a world-class subscription service in Beats, and of course buying music from the iTunes Store as customers have loved to do for years."
Article by Subhadeep Das