Somewhere out there, is a communication-strategist named Megan who hands out her business cards like a boss!
Check out the clever play on words and typography.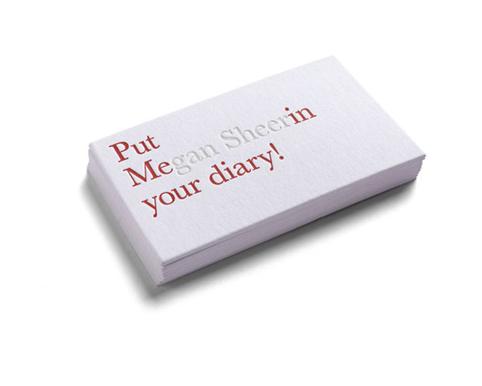 Creatively designed by Ascender, this beautiful stationery has not only increased Megan's corporate visibility but her brand value as well. This is a just example of what properly strategized Business Stationery can do to strengthen the image of an individual/company.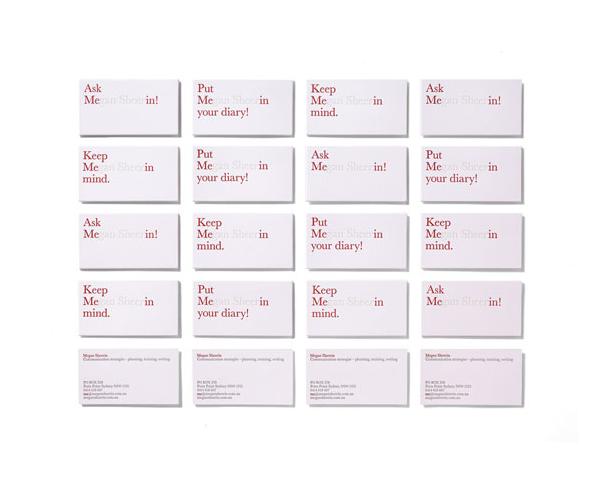 The origin of Stationery can be traced back to 15thcentury China.                                                                                                                                                                                            In those days, visiting cards essentially served as a personal advertisement tool for the upper class. They were also used as calling cards and handed out at doors of establishments with the intention of receiving meetings or to forge introductions with specific people.
During the highly elaborate reign of Louis XIV, visiting cards and letterheads depicted rank or title to effectively communicate status.
Personal stationery was largely used to maintain good social etiquette in Victorian era; for instance a letter of congratulations to the happy couple on a wedding that, unfortunately, could not be attended.
Visiting cards were frequently used by the average 17th and 18th century suitor to make acquaintance with the object of his affection and her household. Strict protocols had to be followed while delivering a card and admittance into the house would only be granted after the matriarch satisfied her inspection of it.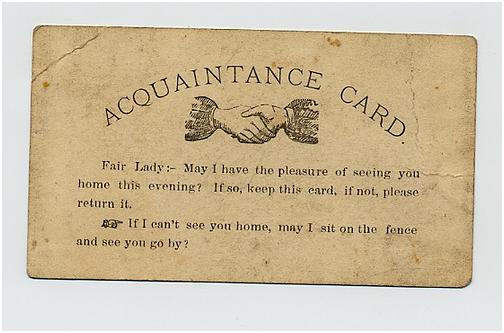 London merchants are credited with bringing stationery into the world of business. Visiting cards were employed to establish trade links and credit with other businesses. A signed card could stand in for a contract and was considered legally binding.
Today, though a business card no longer serves as an I.O.U, it is a key element in creating a long-lasting impression and improving recognition of any successful individual or business.
WHY BUSINESS STATIONERY?
Branded stationery items are tactile and personal instruments of communication.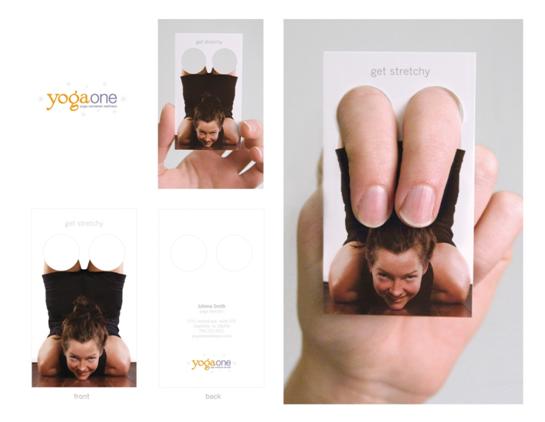 Yoga One business card
By its very nature, business stationery indicates a long-term and committed investment in a particular field. It is regrettable that in the ever-evolving markets, its potential as a potent marketing tool still remains underestimated.
The benefits of good quality custom stationery are many. Majorly, it:-
Demonstrates professionalism
Projects and promotes brand image
Helps with networking
Improves visibility and credibility
Not all stationery is good stationery, however. Owning stationery that is not up to standard can convey a wrong message about your product/service to potential clients and business partners.
Critics agree that no representation would be infinitely better than an off-putting one.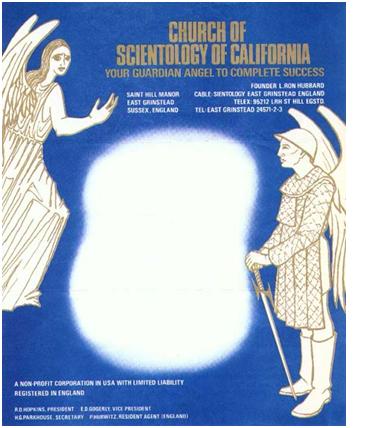 Church of Scientology of California Letterhead
ELEMENTS OF BUSINESS STATIONERY
Choosing stationery that complements your corporate identity is a time taking task and rightly so.
There is a variety of elements that need special creative attention before they can work together to make agile foot-soldiers of your business stationery:
Company Logo,
Relevant Contact Information,
Uncompromised Quality,
Eye-catching Design,
Representative Font,
Brand Allied Colours, and
Empty Space
 It is important that a manager keep a note of elements that have been finalized.  As a best branding practice, these elements must be kept cohesive and coordinated across all the stationery items.
Creativity in business stationery exploits these elements and often creativity itself makes most of these dispensable.
Especially if you are Steve Martin!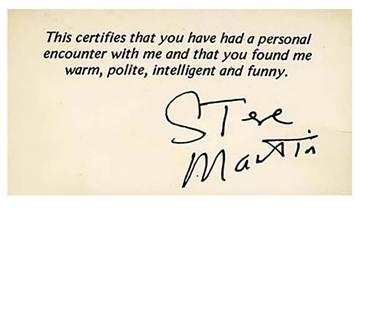 Steve Martin's (fan) visiting card
TYPES OF BUSINESS STATIONERY
Business Etiquette for Dummies gives a list of essential business stationery:-
8 1/2 x 11 inches, with the following information printed on it:
Business name
Business address
Business telephone number
Business fax number
Business e-mail address or web page
Envelopes are printed with the company name and address.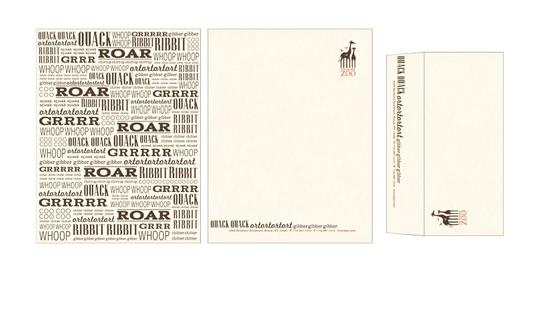 Bronx Zoo's Letterhead (Back; Front) & Envelope
8 1/2 x 11 inches; same quality as corporate letterhead
      Usage: Presented as second and subsequent pages instead of letterheads, in case of longer communication.
7 1/4 x 10 1/2 inches
Contains the following information:
Person's name, but not the business name
Business address
Envelopes are printed with the person's name and business address.
Usage: Personal business letters
4 1/2 x 6 1/2 inches
Contains the following information:
Person's name, but not the business name
Business address
Usage: Personal messages and thank-you notes.
3 1/2 x 2 inches
The card should contain:
Person's name and title
Business name
Business contact information (address, telephone number, e-mail address, etc.)
Apart from the above mentioned, a complete suite of business stationery would include:
Invoices, Receipts, Purchase orders,  Carbonless forms
Internal use forms – Inventory, Billing orders, Supply request
Labels – Shipping, Return
Announcement cards
Envelopes – Regular. Window, Return, Announcement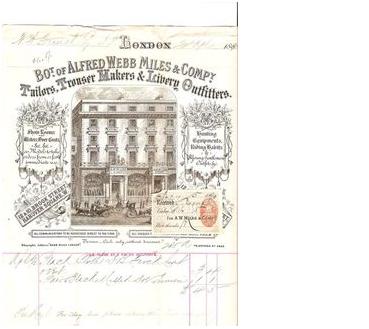 One of the early Bills of Trade of a Tailoring Co.
Itching to get your own business stationery? There is a plethora of online printing services eager to please you. Before deciding on any, do your research. Give your business to the one that has the best reviews. Customer satisfaction is a good indicator of quality.
The creation of business stationery needs proper deliberation. A creative design which is both coherent and aesthetic can impress and build repute. Moreover, uniformity in branding across the stationery spectrum is more likely to convince people that it is okay for them to place their trust in you.
Business stationery does not have to be financially severe, for truly, clarity and relevancy hold more weight than extravagance. 'Simple' can be effective too.
Simplicity does not have to mean 'cheap' however.
With so many bits and pieces to be manufactured, it is a common sight to see quite a few compromising with quality in order to save some pennies. Why is it that they chose to overlook the fact that customers tend to treat a company's stationery as a reflection of the company's objectives, values and professionalism?
What a tragedy it is when the device of self promotion itself, misfires and misinforms!
Great care has to be taken to ensure that the subtle message delivered is in fact the intended one. Branding one's stationery in such a distinctive manner is a grass-root marketing strategy and vital for image building. And, we can safely say that if brand image is the 'face', business stationery is the 'selfie'.
Just ask Megan Sheerin.
Drop us a line in the comment section below and tell us about a piece of business stationery which you found inspiring or even disturbing. Did it alter your perception of the owner?
---
Contributed by Ankita Verma, Class of 2009, IBS Hyderabad