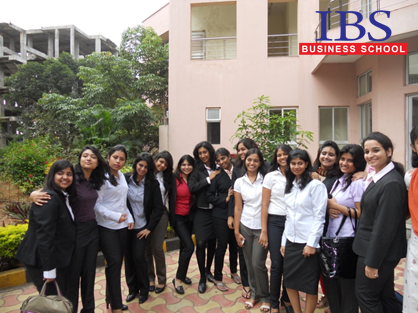 Two years back I completed my MBA in IBS but during my journey I made some good moves and some really bad moves that affected my first semester's performance. But I remember the blunders I committed and hence, I learn one must remember the lessons from them.
Among the wonders the first was adapting to the environment i.e. molding myself to the pedagogy of case study that the institute followed and dedicating myself with heart and soul into it. It is extremely discomforting in the beginning but you need to be stubborn to follow the guidelines and dedicate everything into academics so that you form a habit.
The second wonder was completing projects and assignments before time; which is rarely a case with engineers. It is a pleasant experience to write all your reports, assignments, projects word by word and then later have a chance to revisit and edit before submission. Even in group projects, I suggest you to ensure that on the first day of group meeting, each member's contribution is clearly decided mutually and hence this will provide you essential time for research, content management, editing, designing and presentation.
The next wonder was learning to work under stressful deadlines that can make you have sleepless nights full of work and efforts. This skill really helps you prepare for real corporate life where the extent and amount of work cannot be entirely controlled by you. The more you are equipped, the better it is!
Moreover, I had to cultivate the habit of rising early and sleeping for restricted hours which makes anyone value time more and use it judiciously like money. This not only made me have greater working hours but also the luxury to do my daily tasks leisurely. This was somewhat of a self-discipline imposed only when I went ill once.
Back to back classes prepare you to deal with several challenges consecutively and accustom your brain with a tendency to be employed for long hours without any break. This is what happens in real life scenarios also because when one project ends, another comes up which is strenuous than the previous one.
The next was learning to work cohesively in groups with strangers and sometimes friends. You imbibe the value of honoring everyone; learning through experiences; adapting to professional behavior; respecting everyone's strengths and weaknesses and turning the same to everyone's collective strength. It really teaches you how to mold the situation so that everyone's combined efficiency is used and substituted for each others weaknesses.
The unexpected wonder that I explored was learning from others and teaching them when required even when you didn't know them. Helping friends is different but cultivating contacts for each others benefits is networking because each effort in the network you build grows your credibility. If self sufficiency existed, the society would cease to exist and people would remain loners!
Cultivating a habit to read is another wonder as you hardly read books accept during examinations. The hunger to read by the end of the course exceeds 100 pages a day and you seem to feel discomfort in its absence. This not only increases your vocabulary but also your knowledge and willingness to learn and read. This habit not only firms your command over language but also helps you understand corporate phrases and subject related jargon.
Among the blunders, that one must avoid, the first is letting your emotions overpower you. First of all stop taking things personally or attacking people emotionally because that builds bitter foes not friends or strengths. Never let emotions enter your professional life. Be neutral in every sense and avoid taking any emotional decisions regarding projects, assignments, groups etc.
The second blunder that I did was dedicating blind trust in friends. Remember till the time you complete your internship, you have to be careful about trusting anyone because friends are those who will sustain till the last day of the course. If someone sustains throughout, your friendship with them will stand every hurdle in life. Treat people as companions and not best friends forever till you compete with them.
Average grades in my pursuit to be excellent in everything, I didn't focus on specializing in few subjects whereas maintaining decent grades in some. You must also not try to control everything, else you will end up controlling nothing! My projects scored full but in theory, I remained lagging. I forgot to make some subjects my strengths so that I could capitalize later.
Another blunder one cannot afford at a distance from home is study-life imbalance; which was a massive cause for my failures and dismal first semester. If you lose touch with friends, cousins, relatives and family, you are certainly about to harm your long term personal life. Result: a few close friends would change to friends with formality!
Dismal health was something that hit me when I was giving too much into socializing, studying throughout nights, sleeping less, cultivating dark circles, hair-fall and muscle stiffness. You or anyone for that matter needs ample rest to perform well. After all, it is you who has to come above study, work, preparation etc.
Resorting to hard work than smart work when corporate requires people to be smart and not hard working. Here you will actually realize that you have to get work done in the future and hence you must first be able to do it in the shortest and best manner with precision. Who cares for a person who does a comprehensive task in a whole day as compared to a person who takes a cut, copy, paste approach with smartness?
Being incompetent was one huge mistake I committed while not realizing that people around me were busy preserving their notes, assignments, sources of knowledge etc. You must remember that you must help others study or understand only when your own cup is full. Don't push to the limits of indulging in people's assignments when they ask for help at your cost!
Giving thought to what people think about you is another crime. How you conduct yourself is nobody's business but yours! You are your own judge till the time you follow the institutions guidelines and nobody has power over you to judge or evaluate you otherwise. What you think about yourself is crucial than two things. One, what others think about and second, what you think about others!
I hope that my good actions would be seen as inspiration and implicated in moderation for your own betterment and my mistakes would prove to be a guiding light to those who are about to begin this journey or just begun this journey.
Contributed By : Chayan Jain (Class of 2011-2013, IBS Hyderabad)