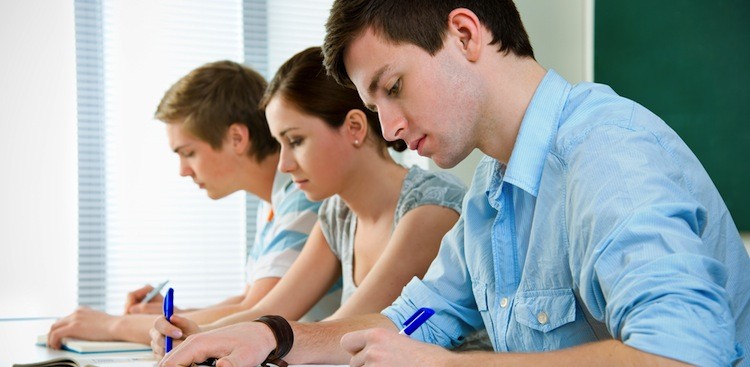 It's been ages we had seen a courier being delivered at home. Not that we didn't have many well wishers, but my father always insisted on giving his office address for receiving any mail. The joy of someone sending a package for me was enormous because it happened for the first time. It had something I have been waiting for since months. It was the reason I have been going to temples two times a day. It was the key to my future.  The brown post had my scores to one of the best B-schools in the country.
The scores seemed good. Along with the scorecard, came an invitation to the city of Nawabs as they say but, for me it was the city of V.V.S Laxman and Sania Mirza .The details of the further selection processes were mentioned with a topic that had to be prepared from the list which was to be presented to a panel along with a personal interview.
After working hard for months, I finally had my first expedition out of home. I cleared the selection process and results were usually given out in the evening in a brown envelope. It was exhilarating when I opened the envelope to see the invitation to one of the best B schools in the country, IBS- Hyderabad.
So how do you imagine your B School to be?  In my dreams it always appeared as a cold place, lined with old buildings with bell at the clock tower, a boring library and classrooms filled with half-asleep students.
But here I was, and I felt like Alice in Wonderland, a place unimagined. It had a grandiose resort like feeling, lush green campus with gardens at the centre giving a feel of a new-age-management temple.  Indeed, it was a place to heal and nurture the skills of value to a person who can be considered as having half baked skills. For the first two days I explored the campus, observed the place and wrote down all the available facilities on a paper
Lush Green Resort-look-alike placeBreakfast, Lunch, High Tea, DinnerPrivate Rooms

Basketball Court

Cricket Ground

Squash Court

Badminton Court

Table Tennis Court

Gymnasium

Swimming Pool

Library
This list gave a taste of a weekend holiday place but this was going to be my home for next two years. I had a feeling that this was going to be one of the most exciting phases of my life and indeed it happened too.
The session began with foundation classes which ensured some basics of general aptitude, quant and logic being developed in students as everybody came from different educational backgrounds. This was how the university brought the entire student pool on the same page before the session began. When I caught up with my friends at other B schools, I came to know that there weren't any prep classes and this made me love my college even more.
The campus was like 'mini-India'. Students from all over the country hailed and what a diversity they brought with them. I had never seen a Punjabi mingle with a Malayali guy, Assamese students having dinner with Gujarati students, Bihari students and Marathi students playing sports and Coffee lovers drinking tea. The place looked like a man-made attempt to create a perfect India where everybody stayed in harmony with equal opportunities. There was no discrimination on the basis of sex, cast, creed or religion. Everyone respected each other while maintaining a competitive spirit.
Initially, I was told that it would be a challenge to study along with 900 students and that this would be one of the disadvantages of studying in IBS Hyderabad. But let me tell you, this very thing turned out to be a lesser-understood-boon rather than a curse. I realised this once I joined a corporate.  The larger the crowd, the more exposure you will get, more competitive you become, more you learn and you become a better manager.
The first two semesters were of exploration, mostly of self. The students were divided into different batches and each batch had different schedules at all times. The class rooms have wooden desks which will make you feel like being back in school. It was combined with a perfect theatrical sitting arrangement towards a podium and board where the professors were our coaches as well as umpires.
The year we joined the college was when they had changed the curriculum and made it mandatory to have case study lectures where scoring was based on the participation in the classroom. Indeed, this became a successful method as it helped even those students who had weak communications skills. They were able to focus on it and improve as they were presented with an opportunity to voice their opinions, which otherwise died due to their lack of confidence and communication.
In this semester, students had learnt various fundamental subjects of management and it helped them develop an affinity toward the subject which would shape their career. Initially, everyone was absorbed in their textbooks but MBA was not just about bookish knowledge but it was about how to use this knowledge practically. Books developed the thought process but we live in a world of humans and not books. Any scenario with people comes along with its share of differences and problems which in turn require smart solutions and methods that need to be dealt in an effective manner.  These skills were developed in workshops called 'clubs'.
There were over 20 clubs running on the campus, each being run by senior students with proper hierarchy of order, a set up which simulates the corporate world. Juniors were taken into these clubs based their interest and knowledge of the subject which was judged through an interview empanelled by the seniors. I opted for a club- Stu-Z, a student online portal that connected the entire campus at one place, giving a dose of weekly entertainment and values as I was highly creative and had some experience in the online domain before I got in the college.
The clubs taught me how to improve my interpersonal skills, work teams, how to dilute one's ego for a greater cause, handle people, be a good listener and other traits which helped me adjust to the corporate environment later in my career.
Before the third semester began, we had a compulsory internship which gave us a superficial yet effective experience of working in a corporate. I worked with O & M advertising agency, which is one of the best creative ad agencies in the world. At the time, the Zoo-Zoo campaign of Vodafone was a huge success and we were extrapolating it. Working with stalwarts of the industry was fun and a great learning experience.  Every student could see a change in their personalities and attitude from when they first joined the college.
The third and fourth semesters are more of an independent semester as they revolve around specializing in the management area with simulations and research reports. These semesters are very important in preparing the students for the campus placements which starts at the beginning of 4th semester and mostly ends with it. Our batch had one of the best placements IBS has ever seen with more than 110 corporate visiting the campuses. I was lucky enough to get a job in my hometown.
The institute's extreme focus on soft skills was now realised by the students when they had handsome offers in their hand. Soon after the semester ended all of us said bid adieu with moist eyes promising to stay in touch with each other. At this time we realised that this university has not only created future managers but the people who will care and grow.
Contributed by Apurva Singhi (Class of 2011-13, IBS HYDERABAD)