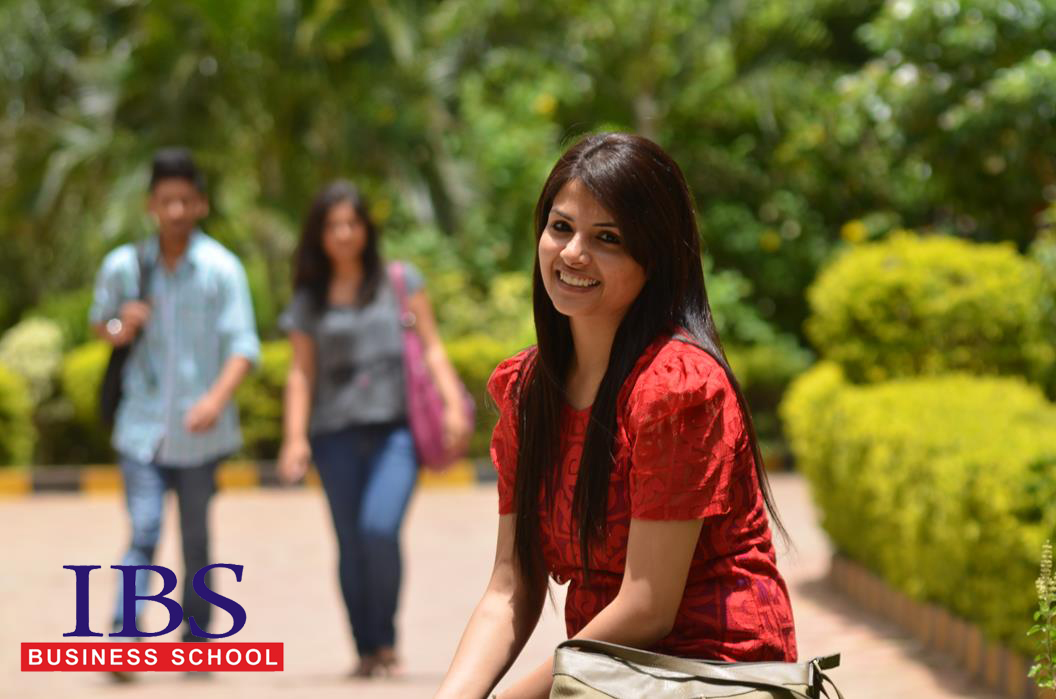 Earlier in February 2014 SEBI( Securities and Exchange Board of India) issued the guideline seeking compliance before 1st of October 2014 for all to all the listed companies to appoint at least one woman director on their board, later on the deadline was extended by six month.In March 2015 again warning was re-issued, failing to which companies were about to face regulatory action.Even after various notifications and threats of regulating actions various companies failed to meet the deadlines while others simply went with the appointment only on the last date of the deadline.
The notification was in response to SEBI's finding regarding absence of women from board of directors in nearly 1/3rd of top 500 listen companies in the India.
In an era when Indian ladies like ChandaKochar, IndraNooyi,KiranMajumdarShaw and many of their likes have proved their acumen worldwide why was there so much reluctance in appointing women at senior position that too when the minimum criteria was to appoint only one woman?
If we analyze the situation globally according to Grant Thornton International Business Report , in2015 only 22% of senior leadership roles are held by women worldwide which is mere 3% rise as compared to 19% in 2004.This research was carried out in 35 countries of North America, Latin America, European Union as well as Emerging and developed Asia Pacific Countries. India ranked 3rd from the bottom just above Germany (14%) and Japan (8%) ,with merely 15% of women in senior leadership role which was way below the global average. Worth mentioning Germany and Japan are victim of aging population unlike India which comprises of 487 million labour work forces according to 2013 estimate.
Among BRICS nations only Brazil has same percentage of woman like in India at senior roles, rest all not only have better representation of women they rank well beyond the global average of 22% too. In China 25% of senior roles are held by woman which is a decrease from their previous best of 32% in 2007, while Russia is number one worldwide with 40% women in senior roles followed by South Africa (27%).
If we compare India with other Asia Pacific Countries, both Australia and Singapore sit level with the global average. While Indonesia has 20% of female in senior leadership roles, Japan is at the bottom of the list with merely 8% women at senior leadership roles. Epso Facto even Nigeria has 21% female at senior leadership roles which is 6% more than India.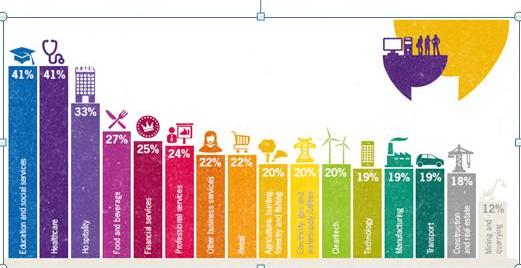 Source: Grant Thornton International Business Report-2015
Another major finding according to the research shows that globally women are more preferred at senior leadership roles in sectors like Education and Social Service (41%), Health Care (41%) Hospitality (33%).While at the same time their representation at senior level positions is very low in sectors like Manufacturing, Technology and Transport at minimal 19%. Mining and Querying industry has least percentage of women at top positions with global average of 12%.
Worth introspection is the reason of under representation of women in India at senior leadership positions in corporate world. What is causing that bottle neck, do they not get equal opportunity, do they intentionally not pursue bigger ambitions, is it because of the social barrier or is it because they do not perform better at senior positions?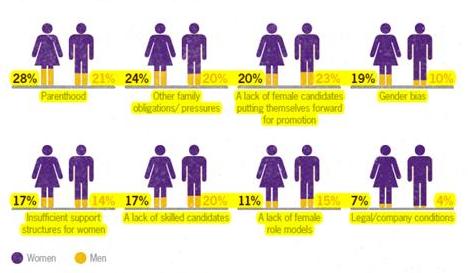 Source: Grant Thornton International Business Report-2015
According to the research report parenthood, family pressure, gender bias, insufficient support structure for women, lack of female at senior positions to encourage the subordinate female employees, lack of role model as well as legal conditions are few of the major reasons globally leading towards under representation of women at senior position and that applies to India as well.
Today when Indian economy is flexing its muscles to compete with global giants like China and USA, we are simply ignoring half of our best talented work pool. Truth be told any economy can't achieve its threshold potential by simply using half of its most talented people while ignoring the other half. It is proven fact that a more diversified group leads towards better and simpler solutions to problem as compared to homogeneous group. Saying so gender might not be the sole parameter for diversification it is fundamentally step to towards the right direction.
Looking at the existing scenario one realizes that attempt by SEBI , making it mandatory for all the listen companies to have at least one woman in board of director is a commendable step. If it is implemented seriously it will bolster the Indian economy as well as give shot in the arm to the dreams of millions of young ladies who want to make it big in the corporate world.
But it would be worth watching that this norm is not fulfilled only for namesake. There will be situations where business houses will simply promote the daughters, wives or other female family members of their promoters or top executives just to abide by the obligations. Honestly speaking it will not serve the purpose rather would be a rhetoric case similar to the one we have been observing in elections. It has been usually observed that on seats reserved for female quota in elections most of the time a female candidate is the daughter or wife of the male member of the family who use to contest elections earlier, thus leading towards a mere representational female head while all the decisions are still taken by the male.
Still one should not forget that it is just the beginning and looking at the excellent track record of SEBI in enforcing the regulations, they will surely take care of this fact too and make sure this opportunity is extended to every working women who aims and deserve to be at key positions in the organizations where she is working.
Contributed by Sharique Hassan Manazir (Class of 2011-13, IBS HYDERABAD )