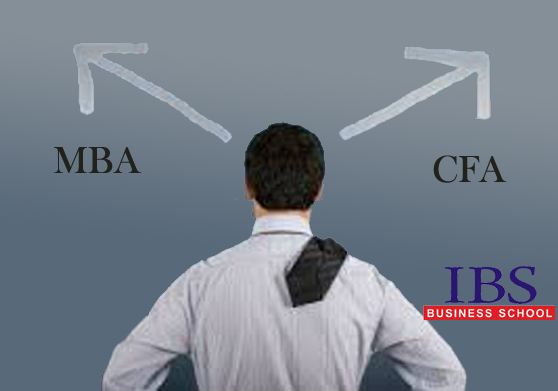 Once a fresh graduate passes out from his university he is looking for carrier options in life and there are multiple and its being really confusing which to opt and why. Every options have pros and cons and there is a need to make a through examination of these options . The best way to judge is to ask why we want to do it and whether it suits me or not.
It very difficult to say which is better, i shall not be debating in this write up of mine which is relatively better, but shall be throwing light on what significance each hold and how MBA is different from CFA.
However please note when I am saying CFA I am referring to the Chartered Financial analyst course and when I am saying MBA I am referring to the good Business schools of the country.
There are certain distinguishing features of MBA which I am highlighting in comparison to CFA
Better Networking – MBA has a uniqueness of its own, it helps in creating a better networking as during the two year time period, students share a lot of things, they compete with each other and they fight for common goal . It helps in creating a sporting spirit and a feeling of attachment with each other. They have to give lot of presentation majorly group presentations which help in creating a feeling of togetherness. In this 2 year tenure you develop networking with classmates, faculty, speakers, Industry people and recruiters. The best part is that they all come in contact with you at one go. However in CFA this feeling of attachment lacks as they are studying on their own and giving exams.
A better connected Alumni base- The Business schools which are running for decades have developed a strong alumni base and these alumni are spread in different part of the continent, in different sectors, in different industries. It's being really helpful for the students to make entry in the organisation for different purposes because of existence of alumni base. The CFA Institute is trying to get better, but it just doesn't have the close-knit alumni community that Business Schools around the country have been fostering for decade.
Better for venturing in different sectors- The best part of MBA is that it helps in creating a jack of all traits along with a master in one domain. In the first year the students are taught all the disciplines like marketing, finance, Human resource and Information technology and in the second year they are provided a specialization in one discipline, so an MBA get a flair of all which helps him/ her in his long professional journey as in his journey a person has to take various strategic as well as day to day decisions , his knowledge of all the fields help him in understanding the subject matter well and placing his thoughts in the best possible manner. However with CFA a person gains specialised knowledge in finance and he not get a chance to understand other disciplines. For MBA the prospects are wide open they can join any industry there is no restriction, he can join an investment banking, merchant banking , banks, marketing companies, research based companies or an act as an analyst, however after CFA the scope is not so wide, they generally act as an analyst.
Better work life balance – MBA generally fresher's do on a full time basis and it gives student a time to learn lot of things and also help in creating a work life balance as the students are only studying and not doing job along with it, so without job pressure it help them to concentrate and have time to rest. However CFA generally being opted by people who are in job, so it creates a hectic life schedule.
More Practical aspect in MBA – The MBA study focuses on the case studies, and more practical aspects like what are the challenges in running the organisation, how to manage the situation in different scenarios and how to make a turnaround of the company. They are also provided with the industrial training in the form of summer internship. While in CFA it's a correspondence course, you have to study and pass the papers, though you become expert in finance but not learn the management skills.
Better Mentors – MBA helps in coming in contact with good and knowledgeable mentors who have academic and industry experience, they beside teaching also give tips of practical approaches and share their rich experience. Beside the full time faculty, there comes experienced guest faculty, so students reap a rich experience sharing benefit from them.
Softskill development – MBA helps in developing softskill like public speaking, dressup sense, eating sense and also helps in adhering to the crisp deadline schedule. CFA do not give exposure to these softskill development parts.
Better for starting your own business- MBA gives a perspective of starting your own business as it helps in infusing the leadership skills. People after doing MBA not just look for job as their final destiny but also start thinking of starting there own venture.
Can be finished in short time – MBA get completed in a two year crisp period and there are rare chances that people are losing a year as the pass percentage in semesters of MBA is close to 100%. While in CFA the passing percentage is close 15 to 20%.
Switchover is easy- For an MBA passout its easy to switch over and change stream like a person is in the finance department for 10 years, but later he can become a part of the top marketing team.
Support by good infrastructure – MBA have good infrastructures and backed by good libraries as well as good data bases, while in CFA you lack these and have to join the private libraries.
Placement Support – MBA'S provide a good placement support, companies from different sectors come to the campus while CFA have to apply to the vacancies as and when they come.
Contributed by Maneesh srivastava (Class of 2008, IBS GURGAON )