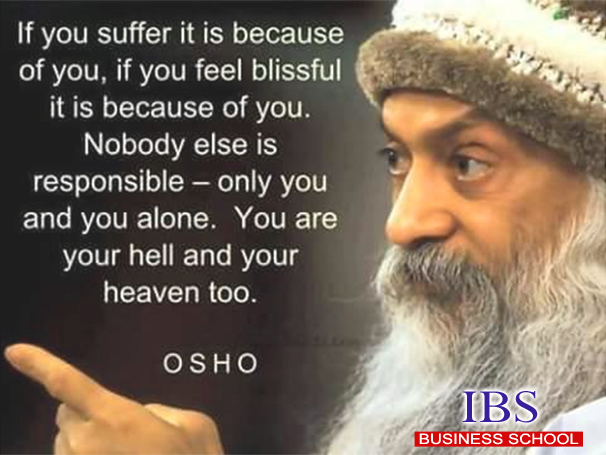 I am sure many of you would have first read just Osho before reading about what he actually said. It's all right! He has been outraged talking a lot about sex and has captivated his image on the same note and that's what we all love reading about. But that's not about it. If you go back now and check what he actually said, I find it very appropriate. For a cribber like me, who wants all in life I think Osho solved it all. P.S – Not that I am a follower of osho, this picture is as fresh as someone's Facebook share.
So Yes, I think all my life I have been cribbing about a lot of things. Let it be a taking up on a decision like Science or commerce to a decision like a fashion designer or a collared job. Alike most of us, my decisions have been based upon what my parents or society want to see me as. Coming from a small town, when i walked up to my parents saying I want to take up fashion. More than me, the relatives were thought about and then it came to evaluating the children of the family friends and neighbours. Anyways, I know now it does not matter now. I have still managed to take a diploma from NIFT but post a B.COM+MBA(Marketing Major Finance Minor) and a work ex in Media of 2 years. Ok! I am not that old. But yes I have blamed a lot of people for my discomfort in Life. I just right now blamed parents for not letting me pursue fashion, society for what it actually thinks. But somewhere down my heart, I know if i would have even fasted for a day/consulted my parents well and made that extra effort of actually pursuing fashion I would have been in that stream today. Bow down to you Osho, Yes we are only one who are responsible for our smiles and tears and its all based on our decision. But also we are not a dead fish who has to go with the flow, Life is changing and moving all and then. But I also agree had I not been in discomfort of doing what I do not want to I probably would not have figured out what I actually want in life. Had i not taken up a job in Star Tv and got to know that this is not what I am meant for, I would have never got the gist to pursue fashion. Remember, if you do not see yourself in what you are doing today. You are wasting your time. And to get into something we need to get out of something.
But yes i do agree there are lot of things which that period teaches you when you are stuck in an Unfit Job and it is very important for us to actually be in that discomfort to be more serious on what we want to do, Let's talk about it one by one:-
For someone who has never given a damn in life right from what he wants to become to "chal bunk mar" attitude. It is an eye opener. It's like life saying you, "Hello! Enough of honey moon period, earn you bread" and then from a clumsy person who does not give damn about stats has to work on excel and MS word all the time. Besides regularly saying "I love you Papa" we also begin to realize where our happiness lies and that ignition is what one wants.
From "give me the money" to "show me the money"
Someone who has always called home and fluently just said three words "Papa paise bhejdo" and like a lucky kid has always got a voice back "Kitne chahiye?" now suddenly begins to go hevaya all the day in realising where can he get the revenues from against the targets allotted for the month. The sudden respect for the salary and the usage of Laxmi mata comes in place when he realises how hard are thirty days to spend to get a text from HDFC.
Hello, How are you? J (in the head "Why are you still alive?")
So yes, People Management is the biggest lesson for those who have always been a free bird and have had a choice in what group of friends they want to be in and most of the times ignored people they disliked and now you just do not have a choice than being subservient to those who torture you the most expecting them to sober down. Eventually some of us end up become those ever smiling plastic dolls with "Hi, how are you" paired with a fake smile everywhere we go and especially to those of our clients who do not take the phone calls and neither revert on mails. Imagine, from someone who wouldn't call back and now calling endlessly to someone whom you wouldn't have given a second look to.
We always think of what we will do when we get the Job we love
The phase which grows on you also grows you. When we are low on the present job, we always think of what we will do when we get into what we love to. To plan the thing we love is in itself taking a step towards it. By the end of we dropping the unfit job, have an entire plan of action in hand.
The unfit job shows who stands by you no matter what
The people whom we call siblings, parents, friends, partner show how you matter to them when you are fed up with you job. Those who are true they are always supportive in pursuit for your happiness and those who do not care about your personal happiness and want you to stick to what you are doing are the one's who want something else from you but not you.
From a person who never gave a damn on someone's break up or to a sad happening can actually now consult people on how they should take some really serious things and as they say when one can understand how other feels, the actions are always in favour.
In last, Remember, you are not a tree keep moving till the time you are not happy because it is just you who matters.
Contributed By : Rahul Wadhwa (Class of 2013, IBS Gurgaon).