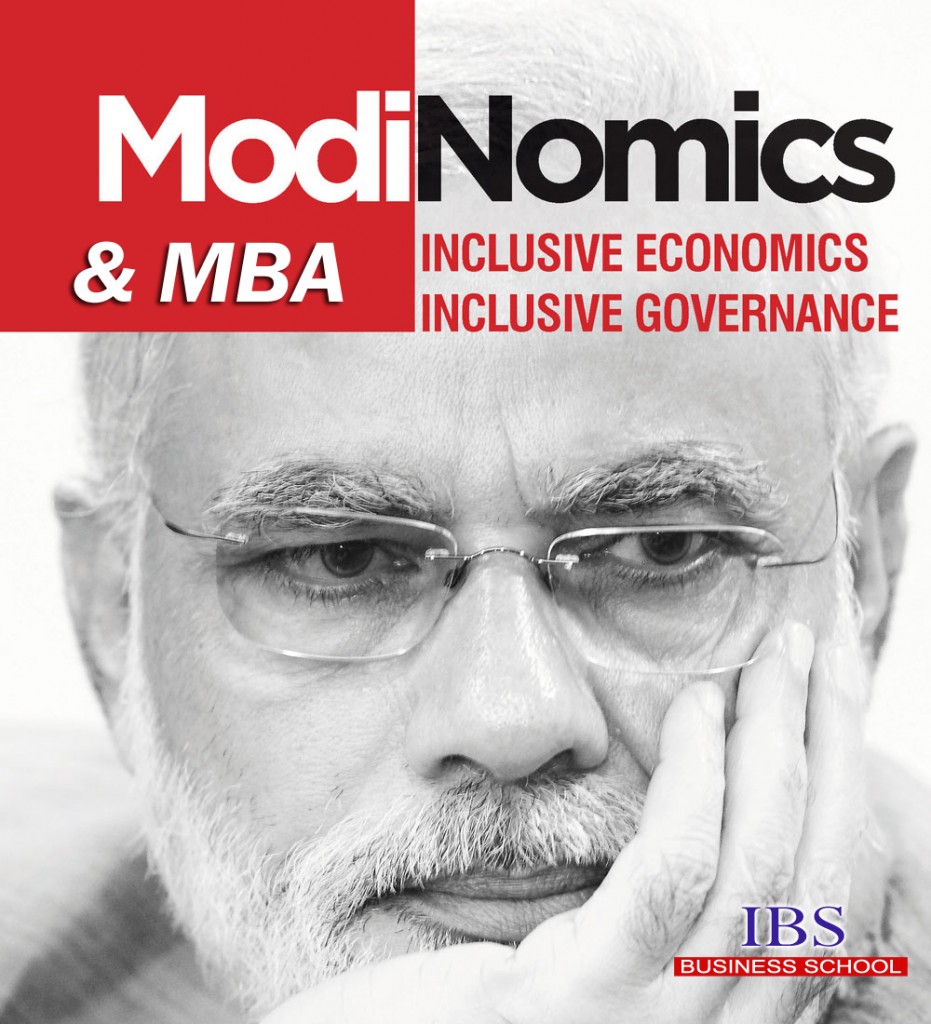 With a vitriolic campaign, involving bitter attacks from all the parties concerned and a long recession, the General Elections of May 2014 were a watershed in in Indian politics. After more than a decade of political uncertainty and coalition politics, the Indian voter had appeared to give a single majority to a single party based on the promises and plans detailed by a single candidate.
The elections ended the policy stalemate of at least two financial years which had cost the economy tremendously in terms of delayed and cancelled projects increasing the cost of doing business and making a negative impact by bringing all the inherent fault lines to the fore in all the key and critical areas of the economy like infrastructure, transport and most importantly banking.
The new government headed by Mr Modi has either announced or put in place a slew of measures and policy reviews which will have important and long lasting ramifications on the students entering or undergoing the MBA programme.
With the basic premise of the new government and the new 'regime' being minimum government, there are very few cabinet ministers and in most cases, it is a Minister of State (MoS) who is carrying on important activities such as Human Resources Department and Education.
Several new initiatives have been announced by the government, and all these call for greater, wider and more in depth participation by all companies operating out of India.
This greater participation not only calls for all companies both domestic and foreign to not only increase their investment in India, but also abroad.
The government has also consistently nudged the corporates including even the state run banks to carry out their Corporate Social Responsibility (CSR) activities to further the cause of government welfare programs and schemes. Case in point— the Pradhan Mantri Jan Dhan Yojana which is scheduled to have a ripple effect on banking which will last in the years to come.
Starting with the mere opening of accounts, this scheme has now diversified to include the beneficiaries in enrolling themselves for both life and accidental insurance. Steps have been taken for a pension scheme as well to improve the social safety net for all Indians.
The incremental jobs created in the entire gamut of the financial sector-comprising the Banking, Financial, Services and Insurance industries is something all MBA aspirants and students must watch out for.
Both the first and the second budgets presented by the Finance Minister, while being criticized for not taking the big and bold steps the government should have taken, are taking the country and its all-important finances in a new area.
Steps being taken to make the Indian Railways more viable will free up more resources for the government budget deficit and improve fund allocation to other fund starved sectors such as renewable energy, inland waterway transportation, and dedicated freight corridors.
MBA aspirants and students interested in the fields of operations research and warehousing will find an immense demand for their skills.
The huge push in policy making towards the defense production sector has already seen many domestic companies such as Bharat Forge, Mahindra, and the Tatas taking the first steps towards indigenous production of defense equipment. Even by the most conservative estimates, defense procurement by India has been ranked consistently amongst the highest in the world, and even a mere 10% substitution of these costly defense imports by these Indian stalwarts will create many jobs for the skilled graduates.
Engineers, armed with an MBA degree will be much in demand for industries involving considerable greenfield project experience along with execution skills.
The Indian economy, while showing the first green shoots of recovery is yet to achieve the dizzying growth rates of the erstwhile Asian tigers. The level of industrialization as well the scale of economic reforms required to be undertaken along with reforms in taxation and law are beyond the scope of a five year term for a government.
The initiatives in the foreign policy space for the government are encouraging investors, both Institutional and others to look at investments in India with a fresh, long term perspective. Nowhere is this more evident than in the huge, bustling and sometimes stumbling industry of e-commerce.
E-commerce firms, both established ones and start-ups alike are managing to achieve what no other centrally or otherwise sponsored government program has tried to achieve–that of connecting millions of small customers to millions of small sellers in Tier II and Tier III cities in India. If, figures are anything to go by, then the demand for the latest fashionable shirts and mobiles is strong and vibrant enough to drive the sales of mobiles exclusively via digital and online channels rather than traditional 'brick and mortar' stores.
The resultant gains in cost and efficiency is something to watch out for. MBA aspirants in the marketing and digital marketing fields will stand to benefit immensely from every investment in a start-up by an angel investor or venture capitalists.
The passage of the Goods and Services Tax (GST) Bill in the Lower house of the Parliament will free Indian manufacturing and trade of some of the ignominies of an extremely regressive taxation structure which increases the cost of doing business in India. (For MBA aspirants hoping to crack their GD's in 2016, this might be a much heated topic of discussion and presentation)
The most important announcement which shall drive Indian manufacturing and industry is the start of the ambitious 'Make in India' initiative. If the government, (and it's a very big IF) is able to supplement and support this initiative with substantial reforms in Labor Law, Environmental Law, and Taxation, this will have the potential of generating 20 million new jobs which will go a long way in addressing some of the issues of rural India and agriculture.
Professionals in Human Resources (HR) will see a surge in recruitment activities along with new challenges of rapid growth and industrialization. MBA students will do good in updating themselves on production trends in the economy so as to correctly identify and understand which particular sector will grow the most and plan their skill up gradation accordingly.
All MBA aspirants, students and those expected to pass out within the next two years must constantly strive to constantly acquire, upgrade and consistently enhance their skills-be it adoption of new technologies and improve their understanding of different markets and economies.
Contributed By : Sunil Iyer ( Class of 2008, IBS Gurgaon).