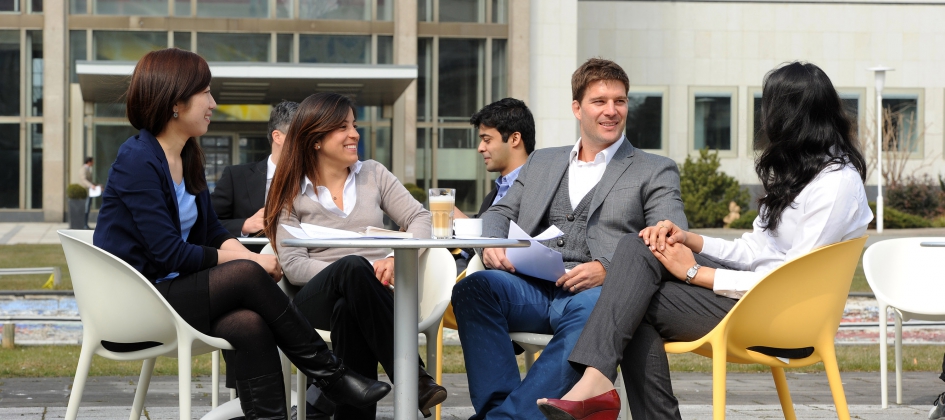 People think that doing MBA is all about getting a masters degree and receiving a handsome salary, which is true for most part. However, there is more to an MBA degree than just a promise of a great job. MBA creates a new dimension in life and makes you fit for every course of life. It is not about just learning Finance or Marketing or Human Resource. Once you take a plunge into the MBA world, you might start doing something which you have never thought of. There are people who have left their well paying Wall Street jobs to start their own ventures like selling tea, but in a redefined style while creating turnover in Crores. So, MBA is more about adopting a new and marketable personality.
There are few hidden jewels which a person can achieve after undertaking MBA from a good college.
A new perspective – It helps in understanding any problem with a 360 degree approach i.e. what are the pros and cons of taking any strategic decision. It helps in analysing the issue and finding the alternatives based on the experience gained during the MBA course
Leadership – It helps in developing one's leadership abilities. While pursuing MBA you have to finish tasks within strict deadlines, you have to surpass others as everything is percentile based, you have to manage your group in most of the activities and involve yourself with others. You also get a chance to head certain clubs but you have to deliver the very best that you can offer.
Awareness – It helps in creating awareness about the business world and how any business problem can be tackled as the students get a lot of exposure through case laws.
Entrepreneurship – It helps in inculcating a sense of entrepreneurship as it evaluates your skill-sets on various parameters during the two years. It helps one get in touch with the right people and developing confidence.
Better consolidated business network– As an MBA student, you have great networking opportunities. Through this course, you get to know and interact in a relevant manner (in a context that accentuates your business management capabilities) with colleagues (future high level managers), professors and the teaching staff (usually former or current potent business people, with great on-field experience). Furthermore, you have good chances of meeting potential employers through various internships that are a part of most MBA programmes. Last but not the least, you gain access to the extensive alumni network and professionals with key positions. This extensive, well consolidated business network is bound to pay off throughout your whole career, making you the first-hand recipient of all relevant information in the field.
A good placement offer- Once you graduate from a good institute, various companies willingly make you a part of their team, directly at their middle management level. This is because they feel confident of your knowledge and skill-sets gained during the MBA course. The average salary for an MBA graduate is considerably higher than that of an employee with a regular Masters qualification. That is almost twice as much of what you can expect to earn with a regular University degree. In this case, you can get the return of your investments within 2 – 3 years.
Self respect – It helps in developing self respect as you know that you come from an elite college and will always have a sense of pride about the same. Moreover, people around you would also appreciate the same and treat you respectably.
Risk taker- After MBA, people are in a position to take some risks like starting their own venture or following one's passion. MBA graduates develop risk-taking ability because, at the back of the head, they always have the comfort of knowing that their degree will help them get a job, in case their venture fails.
Skill-set development –You may think that this point sounds quite trivial. You may wonder isn't that what every study programme is supposed to do? The answer is yes, but an MBA education is usually pursued in a very specific situation by a young professional with a few years of work experience and sometimes even by senior employees. After a few years into one's professional life, even as little as 2 years, it is in human nature to conform to a certain repetitiveness which leads to stagnation in a comfort zone. This limits your disposition for learning and the ability to acquire new skills due to by sticking to the comfort zone instead of trying to learn something new that may, in fact, help in elevating the professional growth. Pursuing a Master of Business Administration degree forces you to get out of your comfort zone, deal with the latest issues, apply the newest management techniques and just constantly challenge yourself, your practices and your approaches. And that will continue after graduation as well, as an MBA also provides you with the channels that will keep this challenge alive and push you to improve continuously. Knowledge imparted in an MBA program extends out in developing managerial skills for candidates. These skills provide the essentials for dealing with real-time situations pertaining to management and resolution of problems. You are not only equipped for being a better manager, but also facilitated to handle core responsibilities of an organization.
 Practical Exposure – The MBA curriculum has a summer internship program and the students get a practical insight of the real time work experience in a corporate house.
Career change – An MBA in general and a Dual MBA in particular, provides you with the cushion of switching your career. An MBA with particular specialization makes it easier for you to move across industries.
Starting your own business – Once you get the right exposure in MBA with all the theories and practical approaches, people can think of starting a venture of their own. These days people are starting with little capital and are growing fast. This is how companies like Red Bus, Flipkart, and Snapdeal have started their journey.
As you have seen, MBA offers a lot more than one can expect from it. Earning a reputed degree along with the above mentioned qualities and advantages should certainly appeal to aspiring candidates. Step into the world of MBA and come out richer than you ever anticipated. 
Contributed byManeesh srivastava (Class of 2008, IBS GURGAON )