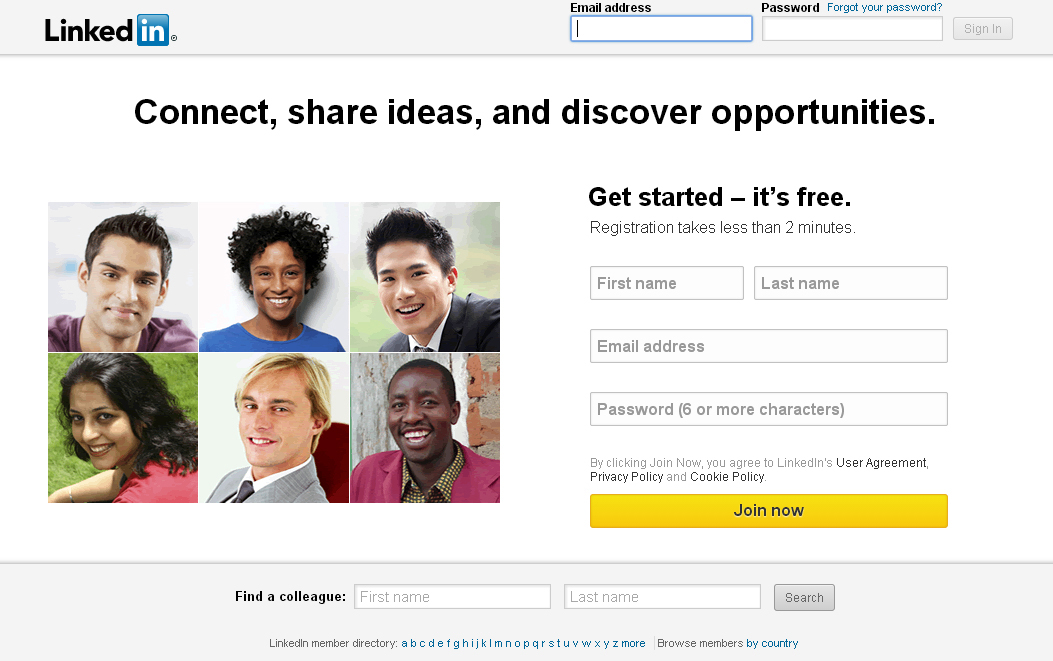 "A year from now, you'll wish you had started today."
– Karen Lamb
You probably know what LinkedIn is and already have a profile floating around. But for the uninitiated, LinkedIn is a business-oriented social networking service launched almost 12 years ago on May 5, 2003. As of June 2013, LinkedIn reports more than 259 million acquired users in more than 200 countries and territories. (Source Wikipedia).
You know all this and yet the number of your weekly profile views is in single digits and endorsements are far and few. Is there something that you aren't doing right? Something that you could do different? Well, there could be plenty. Below are some tips to spruce up your LinkedIn profile and make it a great marketing tool when you aren't present in person to present your case.
1. Start From The Basics: A Profile Picture
Often, first impressions are the last. A decent looking profile picture establishes you as a serious candidate and goes a long way to get you noticed. But keep it professional. Selfies and arty profile pictures are a no-no for MBAs. So don a smart shirt, think of a happy moment that'll make you smile and get a friend to click you. This might take some effort but then remember, that profiles with photos are 11 times more searchable.
2. Draw Them In With A Headline That Shows Intent
A headline is what goes below your name. It's what pulls people in to go through your profile in more detail. Make it boring and they'll move on to the next candidate. So what constitutes a good headline? It should be keyword rich, and in your case of a hot shot MBA, it should exhibit intent. Include your current position (e.g. Marketing Major at IBS Hyderabad) and keep it crisp, not more than 10-12 words.
3. Keep Your Page Bubbling With Activity
Now agreed that this isn't Facebook where you like to update your status regularly and share interesting stuff with your contact list but articles related to your profession can be just as interesting. Or in the case of LinkedIn, just as relevant. So when you come across something meaningful and insightful, don't keep it to yourself. Share it by all means. It is also an indication to your prospective employers that you're active and are hence more likely to respond quickly if they were to contact you with an opportunity.
4. Get Recommendations To Do The Hardwork On Your Behalf
Remember orkut days when testimonials made your online persona a lot more desirable. Well, things haven't changed much. Only got a little more professional. A good recommendation is a testimony of your skills and aptitude. And it doesn't take too much time. However timing is of essence. The best time is after successful completion of a project. Your contributions are still fresh in mind and the person recommending you will do most of it on his/her accord. Also, try and get recommendations from different sources. A colleague is more likely to talk about you being a team player while a mentor might recommend you for leadership skills. So pick up the phone or drop them an email and request them while they'll still oblige you.
5. Belong To A Group
"A man is known by the company he keeps." Given the context, the proverb couldn't be truer. LinkedIn groups are hotbeds of activity where like-minded people from all across the world convene, discuss and share ideas. The discussion topics are current and a vast pool of knowledge. And since you're just starting out, should you find yourself in a bind, you could take guidance from more experienced group members.
A group is also a great way to build your network and it often happens that group members by sheer association get a first shot at a job opportunity posted in the group. You may also get first invites to events such as a webinar, book signing, product launch etc. A feature called 'Group Statistics' creates statistics for every group about group size, comments, discussion etc. that is a useful tool for you to gain information about the professional background of other members and something that'll help you evaluate whom to connect with one on one outside the group.
6. Harness The Multimedia Capabilities Of Linkedin
Did you know that you could include rich media content in your LinkedIn profile? Slideshare presentations, infographics, videos and more. All of this adds both weight and glamour to your otherwise text heavy profile. The key here is to be detailed in your descriptions and make the experience interactive. Surely, there's a learning curve in getting to know the features. But the quantum leap it can give your profile will be worth the time and energy you spend on it.
7. Don't Forget The Obvious
Now, we haven't really touched upon sections like summary, education and work ex. Well, those are hygiene and LinkedIn has made it fairly easy to enter the information in a standardized format.
You needn't get into details of your school life. The name and year of passing out should suffice. You should be a little more detailed about your graduation and post graduation as those were your formative years. Detail out your work-ex and put some weight behind it with recommendations.
There's also a section for Achievements. As an MBA student, it gives you the scope to highlight what you've been up to during MBA and before. Arrange them in an order that'd most appeal to your prospective employer. For instance, you may have stood third in a New Product Launch competition but may have actually won a singing competition. Both are incredible achievements in their own right but to a marketing manager looking to hire a young gun, you being able to launch a product in a market, even if hypothetically, would probably make more sense.
So, this is it. Some very practical and doable tips to share your personal brand story in the form of a LinkedIn profile. I hope you'll find merit in these to help you stand out from the clutter. Have a great beginning to a new year.
---
Contributed by Himanshu Saxena, (Class of 2009, IBS Gurgaon)