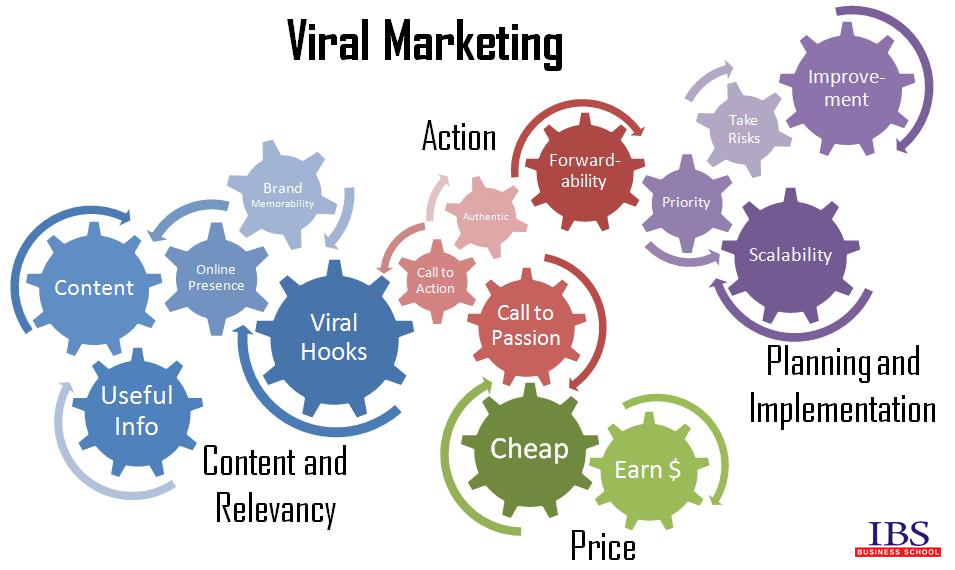 'It's a bit like wild fire.' Halpern Cowan Ltd. says about Marketing. 'If there is one fire the chances of creating a blaze are minimal. If you start 1000 fires, you have a much better chance of creating an inferno!'
Starting so many fires can get tiresome and tardy, don't you think?
Imagine a marketing scenario where a single spark manages to ignite another 1000 fires. Such a phenomenon is called Viral Marketing.
Ten years ago, in the ever-diverse Advertising industry, the marketing strategy for this study stemmed from the premise that a satisfied customer will categorically spread the word.
A viral marketing technique performs as a self-replicating process and urges users to voluntarily pass on the communication to other users. Infecting the Internet with an idea, the aftermath of the technique is thus compared to the spread of a pathological virus.
The concept of Viral Marketing can be better described as the rapid sharing of interesting ideas on pre-existing social networks to propagate brand awareness and prompt action resulting in purchase of a product or service offered.
The social networks can be organic (word-of-mouth) or online. The aim is same – To create an exponential growth in the communication's visibility and influence.
The life span of a standalone word-of-mouth marketing campaign usually is rather short.
The Internet, on the other hand, gives Viral Marketing more personality and a broader presence.
Nowadays anything worthy of interest or entertainment is speedily shared electronically between Internet users; war-stories to music videos, celebrity break-ups to grumpy cats, outrageous memes to sleepy children. The simplicity of sharing information has grown and become more perceptive because of smartphones and other devices that are facilitated with Internet. All one has to do is scroll down and click on the 'Share this to…' button to practice referral marketing first hand.
If we look at certain online products that went viral such as Facebook, YouTube, Gmail, and Craigslist, we realize the huge potential customer base that is available to us through these networks. Since these products improve as more people use them, they motion ideal viral marketing opportunities.
Marketing agencies work towards creativity that can grab most eyeballs. MTS Telecom 'Internet baby' ad is considered India's most Viral ad today. A representative of the company explains how it was launched in an innovative way, "by seeding the spot as a BitTorent file and letting the country's digital natives find it on their own." Released in 2013, Dove's 'real beauty sketches' and Evian's 'baby&me' viral videos have garnered over 64 and 96 million views on the US YouTube channel.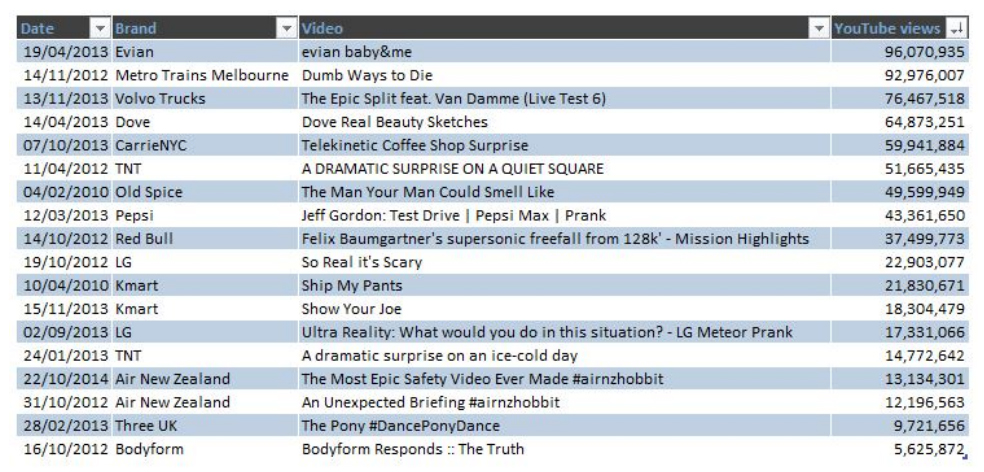 *Google Trends
Agencies have realized that the chances of producing a successful buzz are greater if viral marketing strategies have covered the basics like
Extraordinarily designed content,
Effortless transfer of communication,
Capitalizing on basic motivations,
Building on existing communication networks,
Being resourceful, and
Offering value.
Advertising Strategists take special care on the following aspects of a Viral communication-
1. Headline
The reader usually looks for an indication of value in the Headline before proceeding over to rest of the content. If the headline manages to spark their interest, the message is more likely to be delivered. Experts recommend adding symbols or numbers to make the headline more striking.
2. Topic
For the communication to spread like a wildfire the topic must be buzzworthy. Current news and trends are liable to ripple the most.
3. Links
It is important to put in links to prompt the reader to take projected action and to provide supplementary information.
Several Marketers in the Entertainment business turn to 'Prankvertising' to inject humour into the message endorsed and footage captured.
If you look at the highest-rated videos on YouTube, they're not sad dramas, they're men getting hit with inflatable balls or animals falling off things. Younger generations love humor, which is why advertising is using increasing quantities of it to sell things. People like it. It works. – Craig Allen & Jason Kreher (Wieden & Kennedy)
A coffee shop in New York was transformed for a 'telekinesis' camera stunt in order to promote the movie 'Carrie'. The resultant video has also crossed 60 million views to date.
More recently, the 'ALS Ice Bucket Challenge' created ripples, raised special awareness of ALS and acquired considerable donations by triggering interest and involvement of every Celebrity-worth-his-social-media-salt along with the global-public.
For palpable reasons, Viral Marketing has been decreed as the leading medium for future campaigns. For one, the cost for commercial advertising space is a great deal lower than that of other media like Television or Print. The costefficiency of this type of marketing is a huge plus for the Advertiser. Such lowcost advertising in a worldwide market allows the marketer to target the masses. Moreover, repetitive views and clicks on social media platform ensure greater frequency of advertising.
Another pronounced benefit of Viral Marketing is how accessible Consumer feedback is made through it. Viral Marketing campaigns often provide an interactive platform for their target audience, which allows for a stronger brand involvement. For instance, The Dark Knight campaigns unlocked exclusive sneak-peek trailers through interactive participation, and invited fans to join related rallies / events.
Viral Marketing despite its wide reach, like any other of its field is not without its limitations. The well-established companies frequently use it as reminder advertising but the start-ups who begin with such advertising are viewed as lacking in credibility. The average Internet user does not appreciate pop-up advertising and resorts to spam filters and blockers.
Seth Godin mentions a common blunder that marketers make when dealing with a poor product, small budget and/or little time.
"They slap some goofy viral thing on top of it and wait for it to spread. And if it doesn't spread, they create a faux controversy or engage a PR firm or some bloggers and then it still doesn't work."
Things like static advertising, making promises that cannot be kept or posing as a consumer, all depreciate the image and goodwill of any brand.
Effort needs to be made by Viral Marketers to keep the brand relevant for the consumers.
Companies can't just keep talking and saying the same old things. They need to listen, interact, and be somewhat interesting, just like any person who wants to be taken seriously. – Linus Karlsson & Paul Malmstrom (Mother New York)
After weighing all its traits, we advocate Viral Marketing as a viable option for the future, given that the advertisers execute their campaigns with integrity.
With technological advancements that continue to change our world of Viral Marketing, new boundaries will be charted and old ones will keep on getting crossed, as marketers strive to infect the World Wide Web with their creative ideas.
---
Contributed by Ankita Verma (Class of 2009, IBS Hyderabad)