When is the right time for MBA?
You probably are at the cusp of your career and wondering what you should do next. Should you go for higher education like business management or should you work for a few more years? This is never an easy decision to make or a nice situation to be in, as many of us have been there and overcome that phase. I can say from my own experience that I lost a lot of sleep over it and finally when I did decide, it was not a very convincing one. I still had the apprehension of not working a few more years to gain more experience and whether I had jumped the MBA bandwagon too soon. However, once I started the program, I knew I had made the right choice. More on my conviction later, but right now I want to shed some light about this conundrum of whether to work or opt for a MBA program.
Harvard Business School professors SrikantDatar and David Garvin and research associate Patrick Cullen began a comprehensive research study to explore the state of MBA education. Their findings comprise the book, "Rethinking the MBA: Business Education at a Crossroads" '1'. In the book the authors make the case, that although much of conventional business education is still relevant, much of it needs to be rethought. In an interview '2' by Harvard Business Review, Professor David Garner explains how much work experience is necessary before pursuing MBA. The professor analyzes that once you have a couple of years of job experience; it provides enough experience to connect with during your MBA education. Additional years of experience do not add a lot more to your learning. I think this makes perfect sense. Once you know how a business operates, you can educate yourself with knowledge from business school, understand the context of your learning and apply yourself better after graduating. Being a master of the job before studying does not provide a big advantage. If only I had access to similar information during my days, I would have saved some precious sleep time.
What can you learn in MBA?
Now that you are assured that an MBA program can be pursued at any point in your career, the next big question is what you will learn during the time you spend in the business school. The first year curriculum is usually structured towards the core subjects of business management – accounting, economics, finance, marketing, operations, organizational behavior (also called human resources) and business strategy. Once you have a strong foundation built from the learning of the first year, you then have a chance in the second year to select electives in finance, marketing, human resources, information technology or some other stream of specialization. Each of us have a dream and based on that we can select a specialization in MBA. You can weigh your strengths and interests to decide the subjects that you should specialize in. However, what you want to do in life should influence your decision in a major way. It is important to understand that the electives prepare us for our future domain of expertise and helps us gain competency in a particular area more than other topics. Someone who wants to be an investment banker would opt for finance specialization and acquire mastery over number crunching. So, in reality the electives help you acquire specific skills that are required to be successful in the vocation you select as your career.
Let us go back to what the Harvard professors, Srikant Datar and David Garvin, mentioned in their book about the need to rethink MBA education. Most leading business schools now-a-days provide opportunities to gain hands-on experience through industry interaction, projects integrated in the curriculum and credits attached to such projects. This becomes very beneficial to students since they don't have to wait for the course to get over to apply their learning. Application of knowledge to real life business situations occur during the learning stage only. Any disconnect or positive experience can be appraised in the education process, thus improving the overall learning. The case study method of teaching is also a significant part of the course in many business schools. Problems in the real world do not come with tags labelled finance, marketing or IT. Case studies with real business problems prepare you to identify typical situations that you will face in the external world and come up with practical solutions.
A big boost to your personality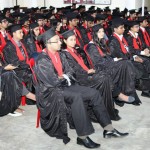 Aside from the course curriculum, the variety of activities all the students are exposed to during the MBA program transforms them completely. After two years of team oriented activities, regular interpersonal communication, peer discussions, preparing presentations overnight, the rigor of assignments, managing and resolving conflicts daily and participation in contests, you come out with a whole new personality that will pleasantly surprise you. Smart, suave, confident, assertive, good communicator, holistic perspective and problem solving approach are some of the qualities you will imbibe. Your batch-mates and teachers will become part of your network that you will remain connected with in the future as well. You will be able to contribute, as well as ask for help from this network throughout your life.
These two years are also a great occasion to develop your leadership skills. Whether you become an entrepreneur or a top executive in life, you will need to influence others and make them work towards a shared objective. You will get some scope to provide coaching to others and also receive assessments for your initiatives as a leader. In the current environment where changes happen at a frantic speed, business needs leaders that can quickly grasp the needs of people and render solutions to those needs even quicker.
"My job as a leader is to figure out where the world is going and make sure our company is there when the world arrives at that place," says Ron Shaich, Founder, Chairman & CEO of Panera Bread.'3'
Thirty years ago, Ron Shaich set out to change the world by changing the way America eats. By founding not one, but two, successful restaurant concepts, Au Bon Pain and Panera Bread, Shaich shook up the industry by offering an antithesis to fast food—handmade, artisan food served in warm and welcoming environments by people you can trust.Today, Panera Bread serves over eight million people each week, employs over 80,000 associates and is a leader in the restaurant space. '4'
What about your career?
In the short term an MBA education will surely benefit you in a competitive job market, as it opens up opportunities and arms you with skills for the workplace. Companies prefer employees who can transition quickly to the demands of business. An MBA program from a good school prepares you for that transition through case studies, industry interactions and team based projects. The long term advantage from MBA occurs when you have had a few years of experience and are striving for growth.
"The fact still remains that 42 CEOs of the Fortune top 100 companies hold an MBA." Employers report that MBA post graduates are people with high degrees of credibility, are extremely confident and are able to positively influence their peers. '5'
Sources:
1http://www.hbs.edu/rethinking-the-mba/
2 https://www.youtube.com/watch?v=XBxtrbj_yXU
3 An MBA that served up a big slice of the snack market, by Rebecca Knight
http://www.ft.com/intl/cms/s/2/b384f7d6-e272-11e3-a829-00144feabdc0.html#axzz3Jm9j6PYN
4https://www.panerabread.com/en-us/company/about-panera/management-bios.html
5 http://www.thecompleteuniversityguide.co.uk/mba/how-will-studying-for-an-mba-benefit-you/
Contributed by Amitava Kundu ( Class of 2002, IBS BANGLORE )