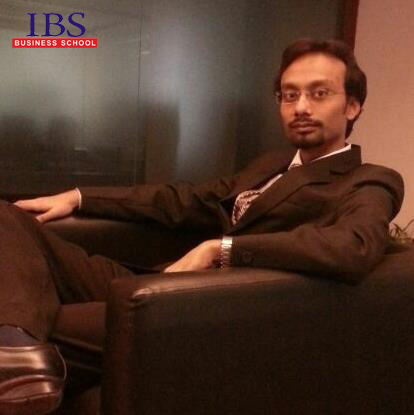 Preparing for D Day
D-DAY is the day when we go through theselection process of anyMBA Institution. It is more or less similar when any candidate goes for an Interview we cannot imagine his anxiety at that point of time .It is very crucial as we are taking first step towards shaping our career and obviously it is going to decide our future so we need to be very well prepared for the process and give our best that day.
How I prepared for my GD and PI at IBS Hyderabad.
One thing which I had in my mind that all the students who would accompany me in selection process would  be at par with me as they might have same academics which I had or could be better than me. All the students who would participate in the processwould have also cleared the IBSAT/CAT exam and probably few might have scored better than me. Keeping in mind the entire thing I started preparing myself for GD and PI. First thought which came to my mind was –
"What should be my USP to clear the process?"
Prompt answer which clicked my mind was "DOMAIN Knowledge".
Answer was very clear but then it was very important to know that how should I improve my Domain Knowledge. Surfing on internet and advices from different professors helped me finding the solution. Following ways helped me to improve my knowledge-
Current Affairs – It is very essential to be aware of what is going on in our country and across the globe. In this era all the things are inter dependent and we need to understand the same. Our life doesn't only get affected by internal factors but it also gets affected by external factors.
I started reading newspapers and magazines which helped me to understand the current situation of our country and Globe. I also read about few events which occurred in past and which had major impact globally.
Finance and marketing – It is necessary to know basic about the course which we are going to study in our masters. There are chances that topics of finance or marketing may come in our GD. Being aware of the basic of the subject gives a good impression that we are prepared to start our next stage of career.
I started reading books of Finance and marketing. For finance I read" Prasanna Chandra's" book and for Marketing I read "Philip Kotler" book. I did not read whole book but I started reading the basic which was given in the book. Few Basic questions which I went through thoroughly were – Difference between Accounts and Finance? Difference between Marketing and Sales.
Bachelor's Degree Knowledge – After completion of graduation it is very important that we know most of the syllabus of the degree as it shows how sincere we were while pursuing our graduation. It is assumed that if we are sincere about our bachelors then we will obviouslybe sincere about our Masters as well. It also shows our attitude towards studies and our career.
I started evaluating myself and found out weak area in which I faced problem during my grads. I went through all the things again and again and didn't leave a stone unturned.
All the above process helped me in gaining in depth knowledge of the subject and also helped me in improving my reading habit. Current affairs knowledge helped me in knowing more about the external environment and widened my thought. It not only helped mein getting knowledge but also helped in gaining confidence which made me more out spoken and prepared me to share my thoughts in front of others. This was very essential for Group discussion.If you have knowledge then people around you come to know about it and they pay heed to your talks. This preparation also brought a confidence in me that I have an upper hand on others as I was well prepared and did what it take to clear the selection process.
Few other Things to learn before D-Day –
CommunicationSkills – It is very essential to have good communication skills. It has been observed that people having good knowledge are not been able to express their views due to poor communication skills so their effort to towards expressing the knowledge goes into vein. Knowledge and communication skills works hand on hand and it is inevitable to have both, any of the single skill cannot do well for you.
To improve your communication skills you need to develop reading habit. It will help you in learning new words and you will come across "jargons". Learning new words and jargons will help you to communicate effectively and conveying your message shortly, which makes good impression in front of others.
  "You can have brilliant ideas, but if you can't get them across, your ideas won't get you anywhere"
Public Speaking – Public speaking cannot be learnt but it comes when you are confident about yourself and you have good communication skills. So to be a goodpublic speaker it is essential to have domain knowledge and effective communication.
To practice public speaking try to listen to your friend when you are in group and make your point at the same time. At start you will feel a bit awkward but then slowly and gradually you will be confident enough to share your views and this will help you a lot.
"If you can speak, you can influence. If you can influence you can change lives"
D-Day – Long wait of GD and PI came to an end and now was all prepared to give my best.
G.D. Round – When I entered the college there were many students who came for D-Day,I had a quick look and started thinking that maybethey were prepared may be they  were not prepared but what helped me is that I was confident enough to face the round as I was well prepared. Entering the hall of Group discussion, I saw two professors were sitting to evaluate and find out right students for their college. I was feeling a bit nervous and Adrenaline was flowing in my body. I was not aware what is going to happen and what will be the result. All I knew was I needed to do my best and leave the rest to god.
"KarmanyevadiKarasteMaphaleshuKadhachana Ma Karma PhalaheDurboMatesangatsvaliKarmani"
P.I. Round – While entering the P.I. room I was bit nervous as I wasn't aware what they are going to ask and people coming out scared me by sharing their experience. But when I entered I forgot all the thoughts and concentrated on the answers which I prepared for the day. I knew that I need to go inside and be honest as it will be reflected and there are chances that being honest will help me in getting selected. If I would fake my knowledge then they would come to know and make situation worse for me, as interviewers are more intelligent and experienced than me.
Finally the day came when results were out, I got selected for every campus and it brought a smile on my face as all the hard work done by me got paid and I was through.
"Hard work beats talent when talent doesn't work hard"
---
Contributed by Kandarp Gandhi, (Class of 2014, IBS Mumbai)