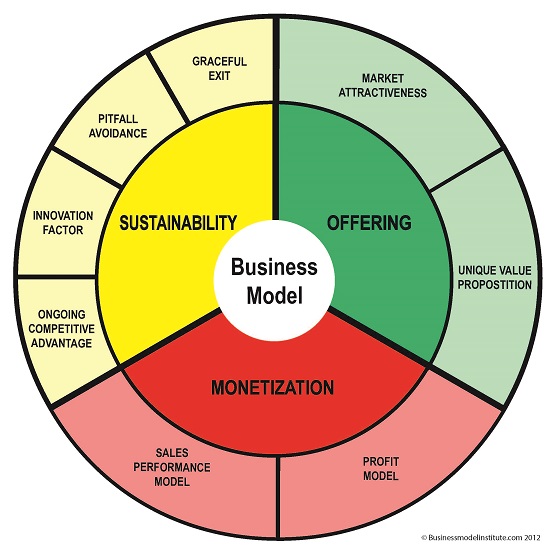 Business Model, It is very difficult and brain storming to know what a perfect business model is. Many questions arise while making a good business model. How should be our business model? What all things are to be considered to make a proper business model? Whether our business model is feasible? Whether it is profitable? Whether it is sustainable or not?
To get clarity on all the above questions it is very important to know what a Business model is- It is rationale of how an organization creates, delivers and captures value in economic, social and cultural context. While making business strategy it is most essential to make a good business model. Business model is broad range of formal and informal description to represent core aspect of business which includes purpose, business process, target customers, offerings, strategies, infrastructure and policies.
Management writer Joan Magretta defined a business model as
"Story that explains how an enterprise works".
How should be a business model?
Business model should strategically align with company's goal and vision of the Promoters/shareholders.
Following things should be taken into consideration while penning good business model:-
It should be a written description of your business's future.
It should be clear on what you want to do and how you are going to do.
Who all are the targeted customers?
Proper acquisition and utilization of funds.
Demand of the product which you are making or Service which you are providing.
How can you get competitive advantage?
Feasibility of the business?
Is the business sustainable and has good future prospect?
It is very important to know how to make a perfect business model because it looks simple but it is not as it can make or break your business. It is not as easy as it look; Truth is it's a bit more complicated than that. Discovering the best business model is like a journey. You might have to take some side road to find the right direction, and you have to invest some time in it.
Importance of a good business model:
During 1990's, when the business world was buzzing with talk about a new economy and business rules, people-even business gurus-seemed to forget the part about making money, and business man sidelined use of business model. But when the dot-com bubble began to bust, everybody started talking about business models again. People suddenly realized that it is inevitable to have a good business model which helps business to survive in times of economic downturn.
One of the few ways left for companies to protect the margin is through business model differentiation. Business models have become the new basis of competition, replacing product feature and benefits as the playing field on which companies emerge as dominant or laggards.
Business model is very useful for a venture to look at itself in a holistic manner.
It helps to figure out elements such as – What problem your company is solving for whom? How you will create a customer value? How your product or service will get to customer? How you company will stay competitive, and all revenue and cost you can anticipate?
Focuses attention on how all the elements of business fit together and constitute a working whole.
It helps as an extension of feasibility analysis and check.
It helps in articulating company's core logic to all stakeholders, including business employees.
"Business model decides fate of the company, good leads to success and bad leads to disaster"
Prerequisite for sound business model:
Vision – To make a sound business model the first pre-requisite is to have long term vision and promoters should believe in that and work on it accordingly.
Example – Dhirubhai Ambani – Founder (Reliance industries)
Vision – "Growth has no limit at Reliance. I keep revising my vision.                                                        Only when you can dream it you can do it "
Time – Sound business model cannot be prepared in a day or so. It takes few months to be prepared as lot of market research is to be done and analysis is also required.
Money – It requires quite a good amount of money to make a business model as extensive market research is to be done and many strategies are to be formed which also require help of experts.
Human Resource – Experts (Core technical team) and experienced professionals of every department are required to make a good business model, good strategy and extensive ground work of the product or service.
"By simply capitalizing on core strengths and knowledge, companies and entrepreneurs can engage in an emerging business model that will enable them to create and demonstrate – real, sustainable social impact in society."
Successful business models:
McDonald's – The three legged stool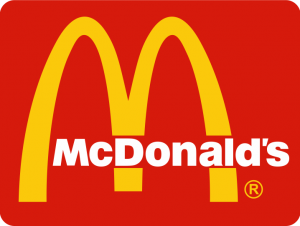 McDonald's, the world's largest fast food chain, has over 35000 outlets across 119 countries. The company was founded in 1940 in the United States as a standalone barbecue restaurant. Richard and Maurice McDonald (Founders) revolutionized the company's business model by using production line principles to set up hamburger stands.
McDonald's business model "Three-Legged stool" depicts owners/operators, suppliers and employees.  The company currently has over 1.8 million employees and 5000 franchisees. The strength of the alignment among the company, its franchisee, suppliers and employees has been key part to success. The business model enables McDonald's to consistently deliver locally-relevant restaurant experience to customers and be an integral part of communities it serves. In addition it facilitates its ability to identify, implement and scale innovative ideas that meet customers' changing need and preference.
Success of McDonalds:
Market share– 19% (Highest amongst all the competitors)
Market Capital – 96.91 Billion $
Forbes – 6th world's most valuable brands.
Amazon:
Company defines its line of business in terms of product sales, service sales, fulfillment publishing, digital content subscription and advertising. You can consider Amazon's business model as Three Line business model – 1) Online retail 2) Internet services and 3) The Kindle ecosystem.
Online Retail – It includes products which Amazon sells as a traditional retailer, most commonly at a low price. Amazon claims to have "Earth's Biggest Selection" of products available through its family of websites, sold at the lowest cost at a small profit.
Amazon strategy was very unique when it brought this model that it won't stock any of the products that were sold through website. Another part of its strategy is to serve as channel for other retailers to sell their products and taking commission of every purchase.
Internet Service – Amazon internet service cannot be discussed as a standalone line of business as it is deeply intertwined with both its retail business and kindle ecosystem. From customer point of view Amazon prime, which provide free two-day shipping on retail purchases, on demand video streaming and free access to kindle library all for an annual fee.
Kindle Ecosystem – Amazon has expanded its business into manufacturing and distributing the family of kindle tablet. Originally designed as an electronic book reader. The kindle has become fully functional tablet and media device.
Success of Amazon (US):
Market share– 51% (Highest amongst all the competitors)
Market Capital – 157.52 Billion $
Forbes – 6th most innovative company, 24th world's most valuable brands.
From these above examples we can conclude that if we work hard to make good business model and work on it then we can have a strong hold over the market and attain Zenith in our business.
"There's not a single business model, and there's not a single type of electronic content. There are lot of opportunities and a lot of options and we just have to discover them"- Tim O'reilly
---
Contributed by Kandarp Gandhi, (Class of 2014, IBS Mumbai)