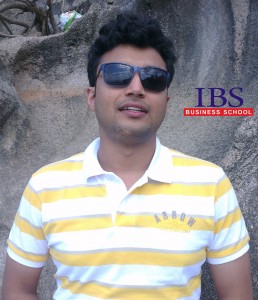 In the chilly winters of January; I chose to appear for the interview of IBS in Hyderabad. Though the interview was scheduled in February, the preparation began a month back.
8 years ago I found myself standing at a cross road, whether to join an MBA institute or work straight out of engineering. The challenging aspect was to get into a MBA institute which lays the foundation of your career, and then building on the strong footing in future.
Friends, choose your battles wisely. Cracking into IBS Hyderabad is no joke, and for an average student like me, it was an uphill task. My goal was to perform best from rest; I went into interview thinking "I am not what happened to me, I am what I choose to become".
The price of success is hard work, dedication to the job at hand, and the determination that whether we win or lose, we have applied the best of ourselves to the task at hand.
I would like to tell some aspects on which you can work to get into a good MBA institute. My experience says by working on following 3 P's (perseverance, public speaking and positive attitude) before going into a group discussions and personal interview of any top institute, you may want to appear, will help immensely. I am sure by working diligently on these 3 P's; anyone can make it to. Remember one thing, It's not the gun which matters but the person behind the gun which matters.
These 3 P's made me an altogether different person and I hope my experience will help you all to achieve success in life.
Perseverance:
Study shows, great work are performed not by strength but by perseverance. There is no substitute to hard work, planning your goal and persistently trying to achieve within a set time frame make you a different personality. If you think to perform well in GD/PI, do the following consistently.
Reading- Read your heart out, reading is to the mind what exercise is to the body. Reading is important but to remember what you have read is imperative. I always use to pen down the whole article into points, which I can easily recollect while having a discussion on the floor. Try to form points which you "like" and "dislike" about the article and use either of them as per the situation. Say if you have to talk for the motion, talk about points you "like" and vice versa. Read which you dislike the most, it sounds funny but this will get you out of your comfort level. We are so accustomed to the comforts of "I cannot", "I do not want to" and "it is too difficult" that we forget to realize when we stop doing things
for ourselves and expect others to dance around us, we are not achieving success.
Tips- Bring variation in you reading, read as well revise the article you have read, read at least 2 business and 1 normal newspapers, keep the cutting of the article which are important and insightful, in your folder.
Public speaking:
99% of the population is afraid of public speaking and of the remaining 1%, 99% of them have nothing original and interesting to say. By reading you will have enough exciting content to offer but how to put your message effectively to viewers is not easy. It's not that practice makes your perfect, but "perfect" practice makes you perfect i.e. practice to speak to the point, never beat around the bush in a GD/PI. Through public speaking you will improve your English, communication and speaking etiquette. Don't be shy in talking in English to parents, relative, friends or others. By speaking in front of unknowns you will overcome hesitation, and will improve MTI (mother lounge influence).
Other important factor which most of us overlook is emphasizes on "Listening" skill. Most people do not listen with the intent to understand; they listen with the intent to reply. We have two ears and one mouth, so should listen more than we say. Patrice to listen, you will get to the skin of your competition, if he/she is speaking crap, your elegance will get the better out of you. Candidates who are good in listening and speaking are hit everywhere they go.
Tips- Take up a topic which is in vogue with your friends and start conversing. Take effective pauses to push your points, listen carefully to others, act as a mediator and smartly drift the discussion in your favor.
Positive attitude:
Out of all 3, this one is my favorite. A positive attitude causes a chain reaction of positive thoughts, events and outcomes. It is a catalyst and it sparks extraordinary results. On "D day" never let any thought, any ill or others, affect your attitude. Remember all your hard work, preparation, prayers, and blessings boils down to this day. Be confident in what you have done and going to do. You can do everything to try to stop bad things from happening to you, but eventually things will happen so the best prevention is a "positive attitude". Don't let vague fears hold you back from doing what you want. Try to calm your jitters, in your mind shout "STOP".
Stay with positive people, they bring an aura with themselves. To be able to stay positive it is essential to have influences in your life that support you and lift you up instead of dragging you down. In fact if you have negative, sloppy friends, you may want to stop talking with them for a couple of weeks. The idea is to build an aura of positivity around you.
Tips- Stay positive, go through the selection process steps, revise your group discussion points and read through your CV carefully. On the day dress well, listen to music, take a deep breath, stay focus and relax. Everyone has a time of success and satisfaction; I wish everyone all the best and pray for everyone's bright future.
Thanks!
---
Contributed by Vaibhav Chandra (Class of 2009, IBS HYDERABAD)